Somehow, when I went to my friends in another city, I forgot to take with me all the means for washing and cleansing the skin, so I had to buy the first thing on the run that came to hand, namely Garnier Cleansing Gel Foam. I'll tell you about him today.
The manufacturer (Poland) promises the effectiveness of daily washing, cleansing and giving freshness to the skin. Grape extract and B5 pro-vitamin fights toxins, gives the skin purity, smoothness and tenderness. Your skin breathes freely. The product is intended for normal and mixed skin. Products passed dermatological control. Proven effectiveness.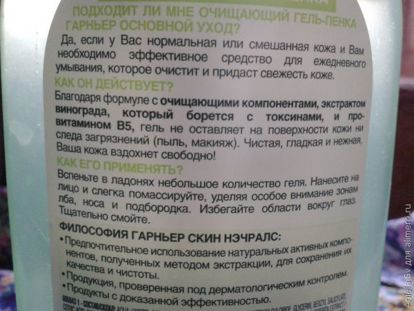 Packaging and appearance
Like most Garnier cleansing gels, this gel is packaged in a transparent light green plastic bottle with an extended dispenser, which can also be closed for more convenient transportation. The volume of 200 ml.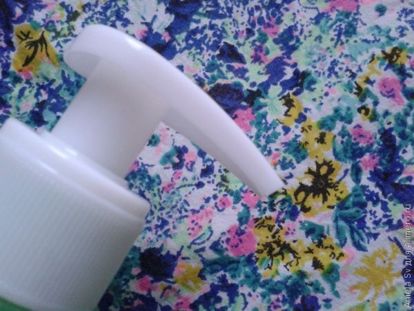 The gel itself is transparent, liquid consistency, with the aroma of grapes, which I really like. The gel foams very well, the foam is thick and fluffy. Foam perfectly cleans and refreshes.
I used the gel to wash off the makeup and clean the skin. With the make-up gel handled flawlessly, even removed the mascara and left no stains under the eyes. As a morning cleansing of the skin, he also proved to be an excellent student. But still, since my skin is dry, I dried it and had to urgently apply the cream. So, I picked the wrong tool, not for my skin type. But for that I do not blame him)
Ingredients: water, SLS, betaine, glycerin, grape water, witch hazel water, menthol, vitamin E, grapefruit water. I know that many people are afraid of SLS, but I treat him neutrally. Full composition on the photo.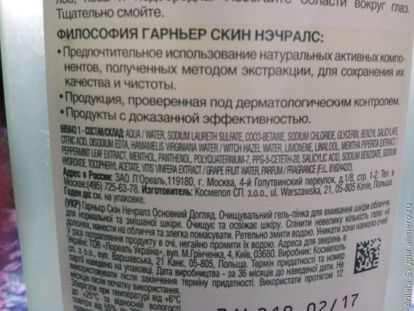 Buy or not?
Definitely, Garnier cleansing products are obtained! No worse than luxury cleansers. I may have chosen the wrong tool for the type of skin, but it did a wonderful job with my needs. I will use this tool and buy the same cleansing gel for my dry skin type. I hope I like it. I bought this copy for 129 rubles without a discount.