Hand cream – an indispensable thing for every girl who cares about the condition of the skin of hands and nails. I always use hand creams and adore trying new ones. Today I will talk about creams Garnier Hand Gentle touch and cream for the hands of Belar.
Hand Cream Moisturizing Gentle Touch Garnier Hand with Aloe Vera
The manufacturer (Germany) promises intensive hydration and moisture retention in the skin due to the unique combination of aloe vera and bifidobacteria. This composition allows you to restore and protect the skin of the hands. The skin becomes soft and silky.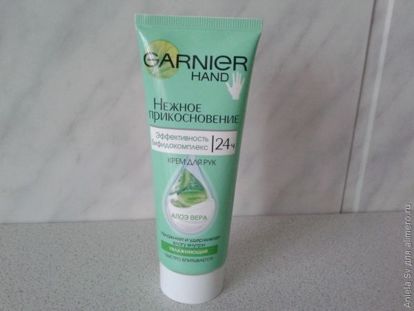 The cream is in a soft plastic tube of a nice green color with a twist off cap. The dispenser is small. The cream is very liquid, applied and absorbed easily, has a fresh aroma of cucumber. Moisturizes the skin for literally half an hour, then disappears from the hands and you want to renew the layer of cream again.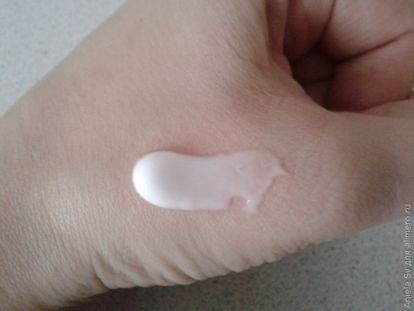 Ingredients: water, glycerin, denatured alcohol (it's not clear why?), Mineral oil, palm oil, dimethicone, aloe extract, bifidocomplex, parabens are present. Strange composition justifies no effect of the cream. Cost – 49 rubles.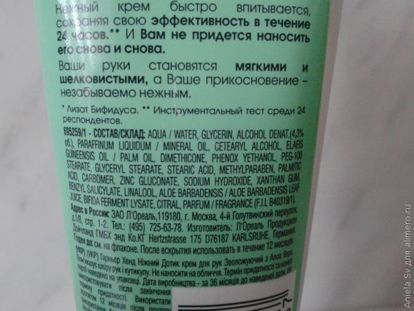 Hand Cream Protective Beloruchka
The manufacturer (Russia) promises to protect the skin of the hands due to the special complex of oils and silicone in the composition. Chamomile extract prevents irritation. Vitamin E protects the skin of the hands from premature aging.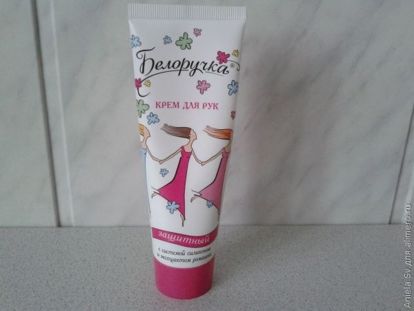 The cream is in a convenient plastic tuba of white color with a pink unscrewing cap and a print in the form of girls. The dispenser is small. The cream is very dense, milky white with a very bright and pleasant candy aroma. It is applied and distributed easily. Really justifies its name Protective.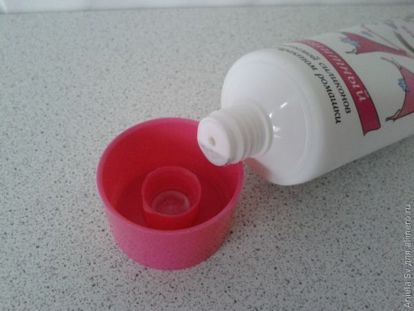 Very well moisturizes and nourishes the skin. I bought it for the winter, when my hands were very peeling and reddening. When applied once a day, after 3 days, my hands were in perfect condition. I recommend this cream to everyone!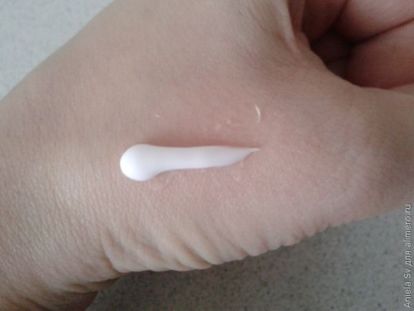 Ingredients: water, dimethicone, mineral oil, hydrogenated castor oil, glycerin, chamomile extract, vitamin E. Price – 59 rubles.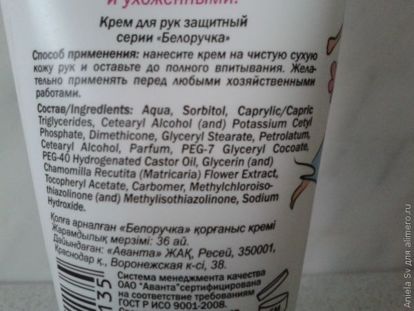 My favorite was the Russian cream Beloruchka. It really improved the condition of the skin of the hands for its low cost.
What hand creams do you use?