Girls, today I will tell you about the most unusual face scrub that I used. It's about the Fresh Face natural scrub for Biobyut's dry skin.
The manufacturer (Russia) promises skin as after a bath after applying this scrub. Scrub cleanses, nourishes, moisturizes, protects the skin, makes it lighter, cleaner, eliminates black dots. It contains only natural minerals and semiprecious stones. It is diluted with water immediately before use and contains no preservatives. Keeps on the skin for 30 seconds and washed off without rubbing the skin. There is an option for oily skin. Available in 1 serving, 6 and 24. I have 6 servings.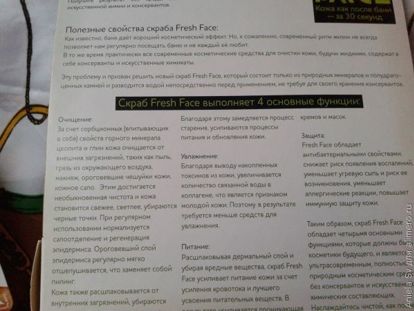 Packaging and appearance
Scrub is in a cardboard box, very beautifully decorated in natural colors – white and green. Inside the box there are 6 scrub servings – each portion in an individual plastic jar, with a paper label glued on top. In each portion 3 g of a scrub, all in packing of 18 g.
Inside the individual jar, there is a gray powder with an unexpressed pharmacy smell. When mixed with water, the aroma becomes more pronounced and resembles wet sand)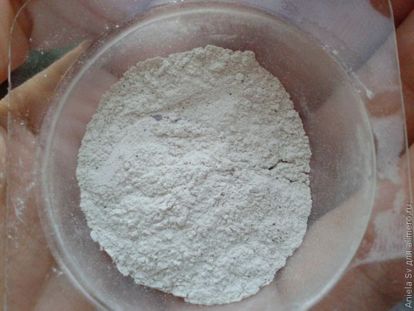 Application and action
Before use, I add a few drops of water to the jar, dilute the powder to a creamy state, and apply it to my face. Never rub the face, the powder does everything by itself. After 30 seconds, I wash off the scrub and enjoy the result.
The result is excellent – my skin instantly becomes smooth, all the peeling and pollution go away, the skin glows with health and cleanliness. Since I don't have black points, I can't say about this side of scrub cleansing. Immediately after rinsing, I apply a moisturizer so that the skin does not dry. Still, the composition for dry and sensitive skin is somewhat aggressive, so I use a scrub once a week.
The composition of natural ingredients: natural zeolite, pearl powder, jade, clay, sapropel, salt, soda and talc. The composition is very interdenny – never met this. I read on the forums that such a composition dries the skin very much and causes discomfort – I don't know, I was convinced that the product was good.
Worthy representative of the Russian cosmetics on the market. Pleases the natural composition and effectiveness of the product. But still, I believe that girls with oily skin, it fits more than with dry. Also a little confusing price for a rather simple composition.
I got the product as a gift, but on the Internet the price for 1 serving is 90 rubles, 6 servings, like mine – 490 rubles, 24 servings – 1,800 rubles.