This tool is the first, for a long time, the action of which I am at least a little bit, but happy. To my surprise, this is the Ukrainian factory Elf. I have already tried quite a few excellent tools from this company. Hand cream did not impress me at all, but I was pleased with the means for my legs.
According to the manufacturers, the cream helps to keep the feet healthy, smooth and silky. In relation to my heels, the last adjective is applicable with great difficulty, but still I decided to try the cream. Also, on the packaging it is indicated that the composition perfectly combines components that relieve fatigue of the legs and reduce sweating.
Interestingly, in the second place in the composition was listed liquid paraffin. As you know, this substance has excellent healing and moisturizing properties. Also, there is oak bark in which there is tannin. He, in turn, has an astringent effect. Walnut is widely used as a tonic.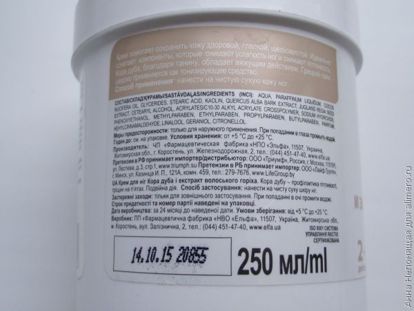 Impressions of use
The first thing that I was very pleased with was the consistency. The cream is very thick, it is impossible to shake it out of the can. When applied spreads perfectly. By itself, quite fat, which is the fact for my very dry feet. The smell is very pleasant, surprisingly, there are no mint notes. Also, I noticed that after the cream is absorbed, and this happens within 10 minutes, the aroma changes. It smells even more pleasant.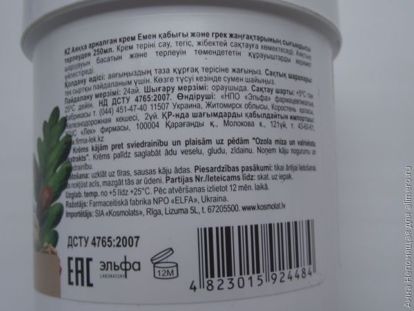 Moisturizing cream is good. I can not say that this tool is a solution to all the problems of dry skin, but it behaves with dignity. I am pleased to recommend the cream for use for owners of dry skin of the feet.
The jar is quite capacious: 250 ml are placed with comfort. Its cost is very budget: about 15 UAH. or 60 rubles. You can buy it in online stores or cosmetic stores in your city.