I have a combination skin. Therefore, I have to carefully select products for daily washing of the face, as they either dry out the skin of the entire face and there is a feeling of tightness on the cheeks, or poorly cleanse the skin of the T-zone, which causes acne.
Today I propose to test 3 gel for washing the face from different manufacturers, which I used for a long time and was able to draw certain conclusions.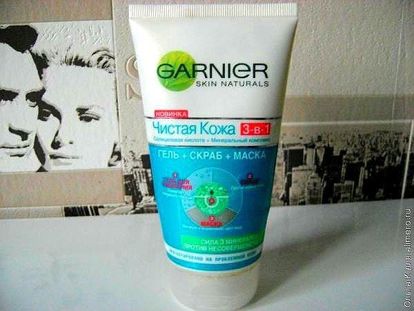 Garnier Clean skin 3 in 1
This gel scrub mask can rightly be called a long-liver in my cosmetic bag: I have been using it for more than 5 years.
Virtues

– Effectively cleanses the skin and tightens pores.
– Moderately dries the skin, removes oily shine, helps in the fight against acne.
– Multifunctional. You can use it as a gel, as a mask, and as a scrub, depending on your needs.
– A pleasant smell, thick consistency of white color with small blue granules.
– Cost-effective, a tube (150ml) is enough for almost a year with daily use.
– Pricing makes us happy with accessibility – from 140-180 rubles. (UAH 35-45)
disadvantages

I used this tool daily at a time when my skin was especially problematic, but for dry and normal skin it is not suitable, because it dries it very much (except as a mask once a week). It also removes bad black dots, only slightly brightens them.
Result

The face takes on a matte appearance, due to the white clay it becomes lighter, the pimples disappear a little, the pores narrow. Cosmetics removes 100% of all, cleansing skin cells from dust and street dirt.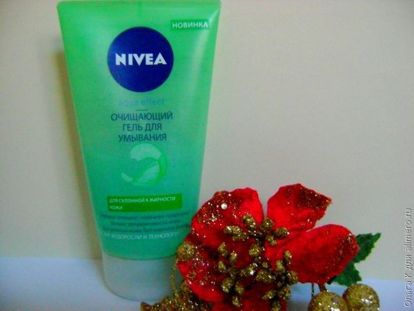 Nivea Aqua Effect
I used this gel for a long time every day. It has both advantages (especially in cleansing the face), as well as disadvantages (for example, not in the convenience of the tube and inefficiency in use) – let's consider them in more detail.
Virtues

– Gently cleanses the face without irritating it and without causing allergic reactions.
– Keeps natural moisturizing without overdrying the skin.
– Budget tool – the price ranges from 130-165 rubles. (32-40 UAH.)
– Pleasant unobtrusive smell, color transparent greenish with small blue grains (150 ml).
disadvantages

Bad dispenser, gel is constantly spilled, because of what the tool is not rationally used.
Result

The skin during the application becomes soft, tender. Well cleans and removes makeup, removing oily shine, but without clogging pores. Suitable for combination and prone to oily skin.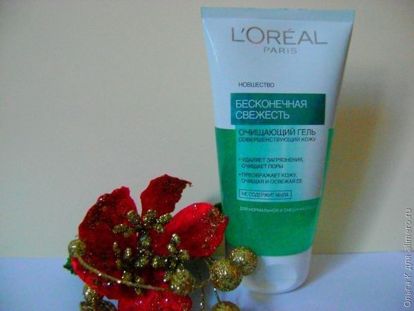 L'Oreal Endless Freshness
This novelty in my cosmetic bag appeared a month ago, but in such a short time won a special love.
Virtues

– The gel foams perfectly, washing away all dirt and makeup.
– Does not cause allergies and redness of the skin (at least, I did not show this).
– Affordable price – it ranges from 140-170 rubles. (35-42 UAH.), Which is available to almost everyone, moreover, 150 ml of funds are enough for a very long time of use.
– Pleasant unobtrusive smell, color transparent blue with small blue edges.
– There is a convenient dispenser, which makes it possible to use a fixed amount of gel, preventing the accidental flow of funds.
disadvantages

Although manufacturers claim that the gel is for normal and combination skin, I would not recommend it for the first type. It slightly dries out the cells, which creates a feeling of tightness. To remove this effect, I immediately cleanse the skin with milk, tonic and apply a night cream.
Result

The skin becomes soft and smooth, it brightens noticeably, the greasy luster on the forehead disappears, there really is a transformation effect that the manufacturers write about, there are no traces of even resistant cosmetics, and the only thing is a feeling of tightness.
And what gels for washing you use?