I love to find something interesting in the cosmetics of the Russian manufacturer, so I am pleased to try various products. Today we will talk about facial cleanser Clean line on chamomile broth. Suitable for all skin types.
The manufacturer (Russia) promises effective and gentle cleansing of the skin without drying out. The tool is made on the decoction of medicinal herbs.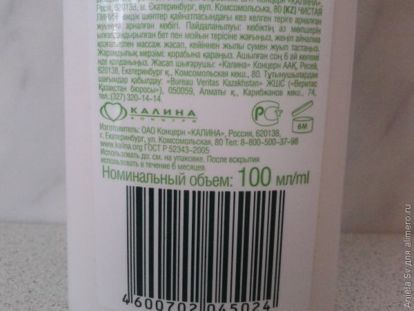 Packaging and appearance
The foam is presented in a convenient transparent plastic bottle with a folding green lid. Under the lid is a small dispenser. The design is made in the company colors of the Pure line – white and green.


The foam is a cream of a rich, milky-white color. This foam, which is not a foam at all, has a dense consistency. It has a specific aroma for all products from the Pure Line – something creamy-herbal. I don't like this fragrance.
I tried this foam for washing in the morning and for removing makeup. What I will say is that when applied to the skin it is easily distributed, but when it feels some oiliness of the product, when rinsing it becomes stronger and there is a feeling that you wash with vegetable oil, which is very difficult to wash off. In the end, having washed her once, I washed it with another skin to remove the sensation of an oily pancake from my face.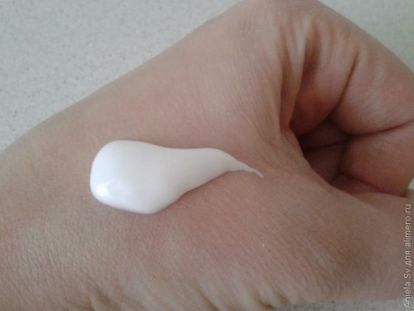 Deciding to give Penke a second chance, I began to wash her makeup off. The foam has not justified itself this time either. She did not even cope with a light foundation, and when I decided to wash off the remnants of makeup from my eyes and accidentally hit the eye, my eyes snapped sharply, they turned red. It was terrible. And again I was haunted by the sensation of an oily pancake.
The foam is terrible, I did not like it categorically, and I threw it out.
As part of water, stearic acid, glycerin, coconut oil, mineral oil, urea, ethyl alcohol, chamomile extract, nettle powder, St. John's wort extract, celandine extract, parabens are present. The composition is very long, crammed with all that is possible, what is necessary and not necessary.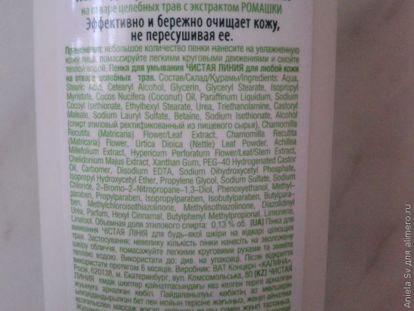 Summary
I repeat, I threw out the foam, I do not advise anyone to try it. That is why I do not like products for all skin types, because they are pushed into the composition, and they will resist the skin. It is better to choose products that are individual for each skin type.
In general, I do not have anything bad against the Pure Line – I like their shampoos and body milk, but apparently they cannot get the foam. The cost of my foam was about 40 rubles.