I inherited oily skin from both sides. Both mom and dad have wide pores and increased secretion of the sebaceous glands.
This has its drawbacks in the form of oily shine and lack of smoothness. But due to constant nutrition on the part of the body and the density of the skin itself, it undergoes less changes with age than thin peach.
However, extended pores cannot be left to chance, they are instantly polluted, black dots appear, and later pimples.
For their narrowing, I, still in my youth, discovered the tightening properties of egg white, and for more than 10 years I have been making various masks based on it. Moreover, it is important to understand that in the mixture with the yolk there will be no desired effect, therefore, when preparing the preparation, it is necessary to separate it.
Mask scrub with sugar

Before making a mask, I always thoroughly clean the skin and pores. If this is not done, then the mask will tighten the pores and in the future the dirt will be almost impossible to remove from them. And on the contrary, clean pores after a narrowing procedure will not let contamination inward much longer.
Most often, I scrub the skin with finely ground coffee mixed with vegetable oil. And when the procedure a limited amount of time, I use the following method:
1. I prepare whipped protein mass with sugar, as for baking decoration.
2. One half put on face.
3. I wait for a little dry, but not much, so that the pores do not have time to shrink.
4. Inflicting the rest of the composition on the palms, I begin to slap on the face, paying particular attention to the problem areas (where there are most black dots). This mixture perfectly pulls out of the pores of pollution, and the protein gives a narrowing effect.
5. When palms stop sticking, wash with running water.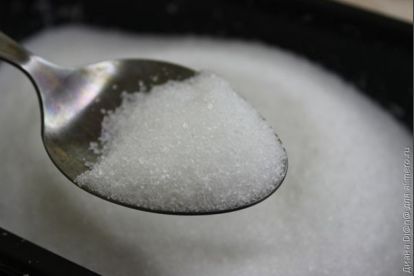 Nourishing mask

There is a misconception that oily skin does not need nutrition. Because of this prejudice, a rather contradictory combination of problems can arise: increased oiliness and peeling of the skin.
I myself had such an understanding, until I encountered in the above described problem. From that moment on, I began to make special nutritional masks. They both nourish and dry the skin, as well as tighten pores. My favorite option is the following:
1. I add some fermented milk product, which is currently in the fridge, and some more honey to the protein separated from the yolk.
2. Apply to face for 15 minutes.
3. Wash with running water.
After these masks, the effect comes instantly. You can go to the mirror and immediately see how much time the pores have already become, and the skin has become more smooth.
Share your mask recipes with protein!