Everybody has facial hair, but some of them have barely noticeable blond hair, while others have a vegetation that is so striking that it causes discomfort to their owner.
Why does excessive vegetation appear on the face? The reasons can be very different, ranging from heredity and hormonal disorders and ending with stress.
Most often, women are worried about the hair in the chin, cheeks and upper lip. Various methods are used to eliminate hair in these areas. The most famous, from which, probably, everyone also begins – these are folk. If they do not help, then qualified help comes to the rescue. Let's consider both options.
Home hair removal methods
Shaving. This method is one of the most common, but the result from it is usually deplorable. Shaving causes hair to grow even faster and thicker. So this procedure has to be repeated daily.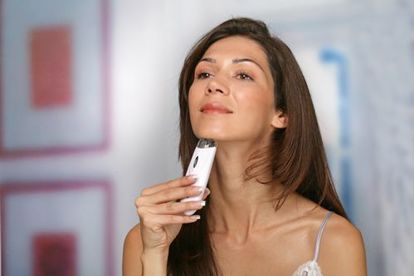 Plucking. This is another popular way to remove hair, but unfortunately, it is not the most effective.
Plucking damages hair follicles, which often leads to scars and scarring. In addition, this procedure stimulates hair growth and thickening.
However, plucking can still be applied, but only if the face does not have too many problematic hairs.
Waxing. It is the most effective method of hair removal at home. During this procedure, the hair is removed along with the bulb, so their growth slows down, and new hair each time becomes thinner and thinner.
For this procedure, it is necessary to purchase special wax in cosmetics stores, melt it and apply it with a special stick on the area with unwanted hair. When the wax has cooled, it must be removed. Together with him to remove and hair.
The result of waxing hair removal lasts 2-4 weeks.
Depilatory cream. This cream destroys the proteins in the hair, so after a certain time they disappear, but it does not affect the hair follicles at all, so there is no slowdown in hair growth.
Professional facial hair removal methods


Electrolysis. Due to low-voltage electricity, the root of the hair is destroyed. This procedure is expensive, but the result is long.
Laser.This is a relatively new weapon to combat unwanted facial hair. Its effectiveness is high. The laser acts on the hair follicle, slowing down the growth of hair for a long time.
Photoepilation This method is based on the action of light pulses. Light affects melanan (a protein that is responsible for hair pigmentation). During the procedure, this protein is heated and the hair bulb collapses. Hair never appears on the treated area.