As I said in previous topics, I was fascinated with cosmetic clay. Her results make me very happy. From green clay masks, my skin became soft and tender. Using green cosmetic clay for the face, I managed to get rid of many problems.
Properties of green clay

This cosmetic clay is widely used in cosmetology. It has many beneficial trace elements. They contribute to the restoration of skin hydrobalance. Therefore, these masks are useful for girls with dry skin.
I also noticed that the skin after this mask, the skin became elastic, soft, rested. Honestly, I like this mask because it removes the feeling of tiredness and stress. And in addition to the face, it can be used to care for hair and legs. This, in fact, I learned from reading the effect of clay on its packaging.
By its actions, green cosmetic clay is very similar to blue and white. With the help of such a mask, I clean up clogged pores in a remarkable way (scrub effect), get rid of the greasy luster on the face. It dries the skin. But if you add to it the essential oils or a few drops of olive oil, then this mask will also nourish the skin.
Well, that's actually the mask. Having tried them first on myself, I am in a hurry to share their recipes with you.
Nourishing mask

2 tbsp. l green clay mixed with 1 tbsp. l oatmeal flour. Dilute it all costs 3 tbsp. l water and mix thoroughly. Then this mask should be applied to the face evenly for 10-15 minutes. I was very pleased with this mask.
Cleansing mask

Grate a ripe cucumber on a fine grater. To him add 2 tbsp. l clay and 1 tbsp. l dry yeast. All mix until smooth. Apply on the face evenly and leave for 20-25 minutes. Rinse mask should be gently with warm water. Do it 2-3 times a week, as needed.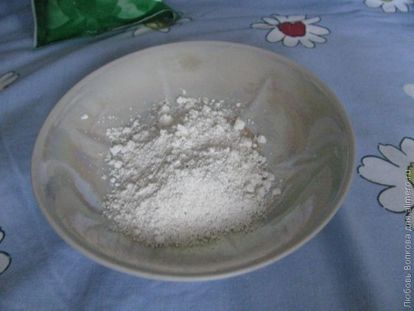 Acne

2 tbsp. l green clay mixed with 50 ml of mineral water. Stir to the consistency of sour cream. This mask must be applied to problem areas. For example, I have this forehead and chin. I leave this mask on my face until it dries. Then wash off, as usual, with water. After the mask is better to apply a nourishing cream on the face, the effect will be better.
Of all the types of clay (and there are many of them), green kaolin is considered the most therapeutic. Due to the fact that the clay contains a large amount of iron oxide, clay and has a green color. Thus, clay helps to eliminate toxins and harmful substances. Therefore, after its use, the skin of the face again becomes radiant and healthy.
Did you use green cosmetic clay as a face mask? How do you effect the masks? Are you satisfied with its result?