Today I want to share with readers of Alimero my impressions of using Lirene brand face cream with cherry and lemon, which appeared on the shelf in my bathroom just a couple of weeks ago.
Before that, for about six months, I used the cream of my favorite brand Recipes of Grandmother Agafya, but since the onset of winter it became too light and not sufficiently nutritious for my skin, I decided to buy a cream fatter.
Having entered the store during the pre-New Year rush, I was amazed at the abundance of discounts. My goal was to buy low-cost funds, because besides him had to buy a huge amount of New Year gifts to relatives.
On the products of the company Lirene were just holiday discounts. Creams were presented in three types, according to age. For myself, I chose a cream with an extract of cherries and lemon, suitable for skin starting from 20 years. The cream cost me 100 rubles (25 UAH) for 50 ml.
The cream is packed in a white plastic jar. The jar indicates that it was produced in Poland and is suitable for both day and night use. I was delighted with this, because I do not have the habit of using such tools daily, I do it from time to time. Therefore, with the purchase of day and night cream, they will just gather dust on the shelf for years.
Also on the packaging caused the image of the active components – cherries and lemon. The composition on the jar is not, but it can be read on the leaflet, which is attached to the cream. The lid, as for me, opens comfortably and securely. She simply unscrews. Under it is a plastic plate that does not allow the cream to stain the cover.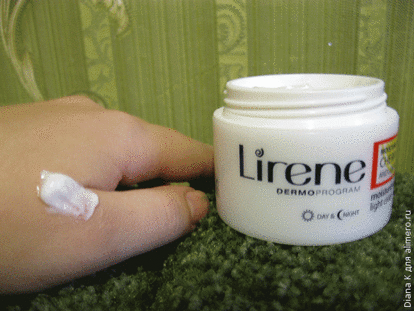 The active component of the cream is Barbados cherry, which, according to the manufacturer, contains vitamins C, PP, B1, folic acid, glucose, carotene, copper, magnesium, iron, potassium. In addition, its extract prevents premature aging of the skin and refreshes the complexion.
Another component of the cream – lemon – also contains many beneficial vitamins and stimulates the production of collagen in the skin, maintaining its fresh color. The manufacturer claims that the amount of natural components of the product is 87%.
Advantages and disadvantages
The cream has a white color and a thick, pleasant texture. It is easily applied to the skin of the face and very quickly absorbed, leaving a feeling of freshness and moisture. There is no sticky or oily film on the face after use.
The aroma of the cream can not be called natural, but it is quite tasty and pleasant, reminiscent of cherry juice.
In addition, I really liked to use this makeup cream (the manufacturer mentions that this is allowed).
Despite the fact that I use Lirene Cherry and Lemon face cream for a short time, I am delighted with him and I can safely recommend it to all readers of Alimero!