I learned about this cream about two weeks ago. Immediately prepared it, but did not hurry to share the find with you. First, she conducted experiments on herself. Since I was satisfied with the result, I have now prepared a whole master class with step-by-step photos so that you can afford to take advantage of a natural and cheap facial skin care product.
You can judge the results yourself if you decide to use today's recipe for making cream. I also liked that the skin after this cream is velvety. The skin feels cool and fresh, as if I washed my face with mint tea.
Since the skin on my face is combined (the place is dry and in some places is oily), it was very important for me that the cream was suitable for all areas of the skin of my face. And this item was approved by me at 100%.
To prepare a face cream, you need the following ingredients:
– 1 egg white
– 40 drops
– 70 ml homemade sour cream
– 2 tsp. almond oil or apricot kernel oil
– 3 tsp. lemon juice
Cream storage time on the bottom shelf of the refrigerator – 2-3 weeks.
In the preparation of the cream is nothing complicated, and in time this exercise does not take more than 5-10 minutes.

The cream is thoroughly mixed and poured to a jar, which you definitely need to scald with boiling water, and even better boil it for 2-3 minutes.
We send the cream to the refrigerator for storage. We use it in the evening, applying to clean skin. From a jar, cream is collected not with fingers, but with a cotton swab, so that the bacteria that we have on our hands do not get into the cream and do not begin to multiply there.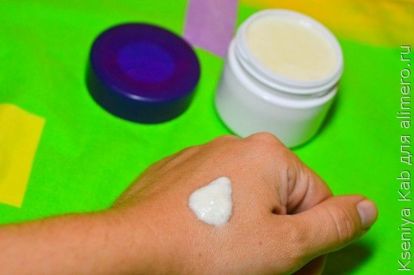 My cream ended after 1.5 weeks, because I could not resist and smeared it not only the face, but also the neck and decollete. In principle, the cream is generally suitable for the whole body.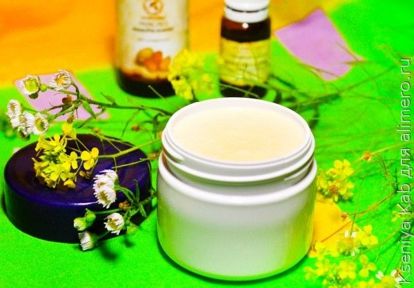 Be beautiful!