Siberian herbalist offers us a serum with extracts of six herbs and four berries. Certified organic, herbal ingredients. Low price. Nice texture. And … allergies!
Here I like the cosmetics Recipes grandmother Agafi and that's it! This is a certified organic cosmetics. Prices are very low, but as for organics – in general, almost for nothing. And the design is so cute!
In early July, I bought this tube because I wanted a light cream for the warm season. But I still can't make friends with Grandma.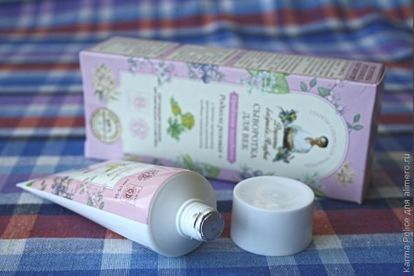 So natural that I can not believe
In the series Recipes grandmother Agafi means consist of 98% of the ingredients of plant origin. These berries and herbs grew in Siberia and the Baikal region, where there are no problems with the environment.
Rhodiola rosea is probably the most famous grass that fights wrinkles. Arctic wormwood and tsetraria snow restore and tone the skin. Herbs with unusual names – hellebore and blue philodocece with their essential oils fight puffiness. And the extract from the Aleutian rank nourishes the skin.
The naturalness of the composition was confirmed by the Institute of Environmental and Aesthetic Certification. The effectiveness of serum was proven by testing at the Research Institute of Medicine of Russia and Italy. There are no such controversial components as dyes, parabens, silicones, alcohol, synthetic fragrances and mineral oil.
Even preservatives – and those only food and approved by the Ministry of Health of Russia.
And all these utilities are sold in a 50 ml tube for 30 rubles with something!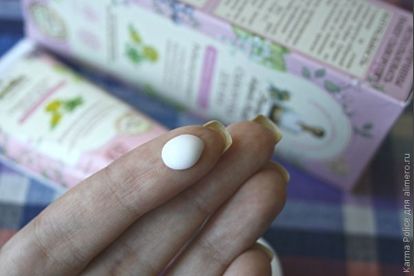 Allergies again!
Whey has a very light natural herbal smell. Texture, like cosmetic milk, but quite non-greasy. It is absorbed quite quickly, it does not feel on the skin.
Designed for women 35-50 years. I am less, but I do not really believe in the rejuvenating power of cosmetics for 30 rubles. I bought the serum because of the light texture. I thought to use not only for ever, but on the whole face.
So, for a couple of days I used eye serum both in the morning and in the evening. The cosmetics on it did not roll down, the skin looked fresh. I also liked to apply it in the evening – in the morning there were no swelling on the eyelids. Then she began to smear it all over her face.
First, the tender skin of the eyelids responded to the new cosmetic product – red dots of allergy appeared on the lower eyelid. And then the whole face was dotted.
What kind of allergy: to vegetable components, or maybe not very high quality and cheap raw materials – I do not know. And this is not the first Agafya product to which my skin reacts poorly. So while with the grandmother I fasten.