This product is designed specifically for those who suffer from excessive sweating and unpleasant odor. It is not only about the armpits, it can be used for any skin areas – palms, soles.
Honestly, I have never seen an Excipial DeoForte ad, and it doesn't need this tool. After all, those who at least once become convinced of its effectiveness will forever become a fan of Excipial DeoForte and will advise it to their friends. As, in turn, my friend-pharmacist recommended this product to me.
Import Excipial DeoForte from Switzerland. Other products of the Spirig brand in our pharmacies are not represented.
The main active ingredient is aluminum chlorohydrate (15%) – Aluminum salt, which affects the secretion of sweat and has a bactericidal effect. The remaining components are standard for any antiperspirant deodorant: water, paraffin, glycerin, dimethicone (silicone), two types of alcohol (but not ethyl), etc.
I heard about the possible harm of the notorious aluminum salts, but it seems to me that if the product is approved and produced in Switzerland, it causes a certain degree of trust. In addition, in the analogues of other manufacturers, the content of this component reaches 20-30%.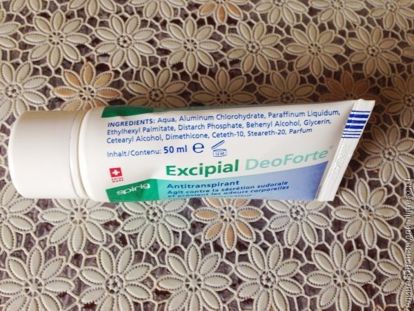 In appearance – the usual tube (50 ml) in restrained colors, which is packed in a cardboard box. The only minus of packing is inconvenient to squeeze out the leftovers, as in all similar tubes.
The cream has a light texture and subtle neutral odor, which allows it to be used by both women and men.
For one application (axillary hollows), a volume of cream the size of a small pea is sufficient. It turns out that with regular use of the tube lasts for a half to two months. Excipial DeoForte absorbs and dries out on the skin instantly, does not leave any marks on the clothes or on the skin.
It is necessary to use Excipial DeoForte according to a certain pattern: the first week once a day (after a shower in the evening) or twice with profuse sweating, and then once every two or three days is enough.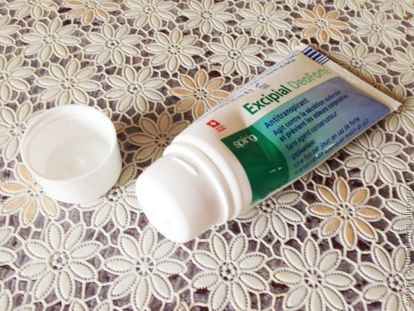 I liked the result. Firstly, there is absolutely no smell, just a feeling of a clean body after a shower. And secondly, the sweating is really normal. I can not say that it disappeared completely (this does not happen after all), but it has become much less. The only caveat – palms and face began to sweat a little more. But this is not surprising, because the body needs to somehow regulate heat transfer, and the heat on the street at forty degrees.
Cost of a tube with a capacity of 50ml – 700r. On the one hand, there is a lot of it for an ordinary deodorant, and on the other, there is very little for the right not to think about choosing clothes in the summer.
Have you heard of the Excipial DeoForte? How do you fight with sweat?