The full name of the product is a Fat-Free Makeup Remover with Mary Kay Oil-Free Eye Makeup Remover. I liked that the two-phase has no smell, it does not cause allergies and perfectly removes even waterproof cosmetics. I did not like the fact that even though the remedy was declared as skimmed, oiliness was felt. Especially unpleasant when it gets into the eye.
Mary Kay promises us not just a super-light removal of any eye makeup, but also skin nourishment without a greasy film. And if you wipe the skin with this tool before make-up, then cosmetics will fall better.
The tool is clinically tested and found that it does not damage sensitive skin, does not cause comedones and allergies. Ophthalmologist tests confirmed that Makeup Remover can be used by people wearing contact lenses.
Since the product is biphasic, it is necessary to shake the bottle before use. Then pour it on a cosmetic napkin and remove its makeup with soft, non-expanding movements.
The active ingredients of Makeup Remover are three silicones: cyclohexaziloxane, dimecicon and polyoxamer 184, they dissolve cosmetics.
Each layer of a two-phase agent has its own function: the top (fat) dissolves waterproof cosmetics, the bottom (watery) removes the usual.
Produced in Canada, costs about 650 rubles, which is not so cheap for the volume of 110 ml.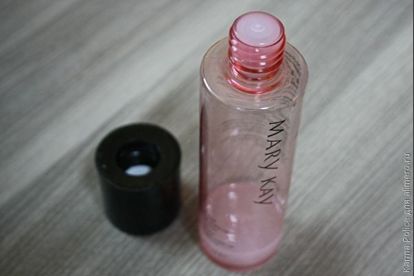 Good job
Oil-Free Eye Makeup Remover was packed in pink with black box, the classic design for the products of the company Mary Kay.
The remedy itself is in a transparent pinkish round bottle with a black heavy unscrewed cap. In the neck of the hole-limiter. In principle, it is convenient to use, you can not pour out too much.
The two phases are mixed very quickly, no need to shake the bottle for a long time: the liquid almost immediately becomes dull-white. For removing makeup I just need two discs. From the first movement, even the usual mascara is not immediately removed, you need to hold the discs a little on the eyelids.
But it is worth noting that there are no black mascara around the eyes! Immediately clean skin. By the way, two-lip seal also removes resistant lipsticks, removing corrosive pigments.
At first there was no negative reaction in the eyes, except a muddy oily film (even though it was a non-fat product, aha!). And now, when the tool is already running out, for some reason, it stings my eyes.
And yes, the cosmetics on him falls easier than on bare skin.
I got the tool as a gift, I will not buy it myself. Because I like to remove makeup with oils and micellar water.