Recently, I wrote a topic for Slimming Salt, in which I talked about other effects of this wonderful natural remedy, including an improvement in skin condition.
This beneficial effect and your positive emotions from taking salt baths can be enhanced if you prepare the salt with your own hands.
Such a bath can be made even if you do not have sea salt available. You need to take 200-300 g of the most common table salt, mix it with 130-150 g of baking soda and dilute it until completely dissolved in the bath. Take within 10 minutes.
Salt can be used coarse, it has a good cleansing effect. Soda also helps to remove dead skin cells, and also helps with acne and dry skin, moisturizing and softening it.
Sea salt with oils
I actively use and basic cosmetic and essential oils. I add them when cooking handmade soap, as well as in various homemade scrubs and hair balms. Oils can be enriched and bath salt.
For 250 g of sea salt you will need 2 tablespoons of base oil and 5 drops of essential oil. You can use food dyes.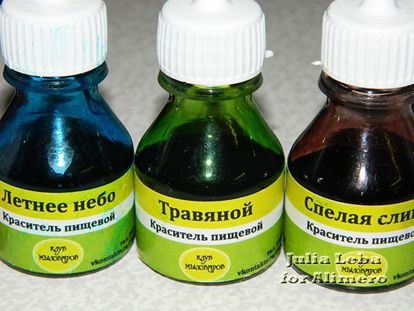 So, you need to take a bowl (it is more convenient deep), add salt there and add any of the cosmetic oils, stir. I use almond oil most often. It is inexpensive, but at the same time I like its effect on the skin and hair. Also, I often buy jojoba oil, grape seed, peach, sesame.
Returning to cooking salt. Now you need to add essential oil. If you want to carry out the prevention of cellulite, it is better to use lemon, orange, mandarin, grapefruit. Want to calm your nerves? Then it is better to stay on the oil of lavender.
I use rosewood essential oil more often than others. Firstly, its smell makes me least of all bored with constant use, and secondly, it moisturizes the skin, improves its elasticity, and relieves fatigue.
If you still decide to do with the dye, then it's time to add it and mix the resulting mass well. Now you need to pour it into a suitable jar and leave in a place protected from sunlight for a week. Shake the salt once every two days. That's all you can use!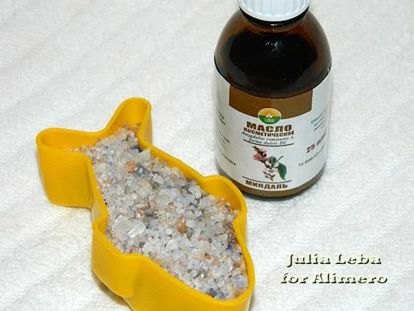 A few more variations
What else can be added to sea salt for bathing? For example, english salt. Its application gives a smoothing and exfoliating effect. Its effect on the legs is especially good – it softens rough skin, relieves pain and fatigue.
Lemon acid. With its addition, a salt bath solves such a problem as uneven skin color. It stimulates the renewal of new cells, fights wrinkles and skin defects.
Bath with sea salt with the addition of milk powder makes the skin more smooth and tender, nourishes it with calcium and vitamins, relieves general fatigue, stress.
Availability starch in the salt composition is most desirable for flaky skin. It has a smoothing effect. I used starch in making sizzling bombs for baths.
And what options did you try?