My skin is prone to dryness, and this is especially felt in the winter. All the time, his face tightens and you have to smear him with various creams. In summer, the sun's rays also adversely affect the skin. Dehydration can and should be fought. This should be done daily, because we are not camels and do not make water supplies 🙂
How to find out that the skin is dehydrated and needs additional moisture? You can conduct a test. Try to wash off a make-up in the evening and not use the usual cream. If tightness appears in the morning, small wrinkles form or scaly areas appear, then all signs of dehydration are on the face. I don't have to wait till morning. If I do not smear the cream, my whole face will tighten.
Other symptoms of dehydration include:
– fine wrinkles
– feeling of tightness (be it amiss)
– gray complexion
I try to care for my skin as much as I can. Still, I have one and the other will not be 🙂 I try to clean my face with special means, not with water. For example, from Yves Rocher, micellar water came to me, which is designed to remove makeup. True, the mascara does not remove it, but the face after use becomes fresh and there is no feeling of discomfort.
In winter, my day cream is nourishing, and the night cream is moisturizing. If it's cold outside, I put on my face a special cream Ruddy cheeks. By the way, fat cream does not save from dehydration, it is rather so that the cold does not penetrate into the inner layers of the epidermis and does not draw moisture.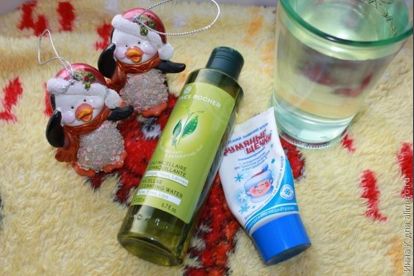 I liked one comparison I read. Try to grease dried apricots, does it become smooth? And if you put it in water, then after a while the dried fruit smoothed out and filled with moisture. Also our skin!
Moisturize the skin is necessary not only from the outside, but also from the inside. It's very simple – you need to drink enough simple water. Everyone knows this, but they do not. In fact, it is difficult to pour in 2 liters, in addition to teas, coffee and soups. Recently, I conducted one experiment and now I will tell you what it was.
Water experiment
I always thought I was drinking a lot. Of course, one Turk of coffee for 600 ml is worth something! I decided to calculate the amount of pure drink, and what would you think ?! It turned out that I drink her an insignificant amount! Then I decided to conduct an experiment and count the liquid drunk. I put a glass on the table, its volume is 350 ml. If you do not top up, then 3 cups = 1 liter.
Already 3 weeks I try to count the number of glasses and inexorably bring the volume of liquid up to 2 liters. Not immediately, but I managed it. I drink 1 liter until 12 noon. Just when I make coffee, I immediately prepare a glass of water and try to drink one or the other. I also put the liquid next to the computer or when I cook to eat. With the second liter, the matter is worse, because after lunch, I am on the run all the time, and it is better not to drink much at night.
What result? Besides the fact that I began to visit more often one important place, it became a habit to drink water! Now I'm missing something if I don't drink a glass or two.
And I also felt a change on my skin! I did not even think that drinking was so important. Earlier, when I was holding my hand over my cheeks, there was a slight peeling, now there is none. The feeling of tightness has become less. In general, solid pluses.
I would like to know your opinions about the problem of dehydration. How do you fight with her?