I can't use expensive makeup. So far, as in the song, finances sing romances. But not the fact that in other conditions, I would spend serious money on this item of expenditure. Perhaps a little more than now. But just a few.
Cream, if you noticed, for mature skin. What is considered as such? Different sources define this milestone differently. Some after forty, others after 35 or 30, and there are those who agree on the number 25!
For me, mature skin is still a 30 plus. Those. just what I need. To be honest, until thirty I didn't buy face creams at all. And after I realized that the turn came.
Producer is LLC Akkort, Russia, Moscow. In this series, I like the range. Regarding the topic of facial treatment here is a complete variety: for normal, dry / sensitive, oily / combination, mature, problem skin.
I paid more attention to all that is intended for mature skin. This is a lotion, tonic, skin, milk, night and day creams.
They also have anti-cellulite products, a hairline, hand and foot creams, different masks and body cosmetics.
Purpose day cream blueberry
Once it is toning, then its main function is to increase the tone, revitalize the skin, protection from fading. Also, the effect of the cream is aimed at smoothing wrinkles, giving the effect of freshness and dullness.
The tube also indicates that this cream will be able to protect the face from the sun and from the harmful effects of external factors.
You can see it in the photo:
As in my opinion, so blueberries, rhodiola, oregano and aloe just refresh and tone the skin. And for the smoothing of wrinkles and the prevention of aging are responsible shea butter and coconut, wax, glycerin. There is stearyl alcohol, but in the composition it stands not in front, but in the middle of the list, so that's okay.
Impressions of use
The tube is the most common. Such hundreds of thousands with the contents of hand and foot creams. Many do not like them. It seems like with fat hands, then twist the lid. And I treat them normally.
In a bottle of 50 ml. The most complete version, so to speak (not trial, like 15 ml each). It is worth the fun of 130 rubles. I believe that the price is adequate.
If you look from an aesthetic point of view, I really liked the color of the cream. It is not white, as is often the case. And some pearl.
The smell to me is very difficult to describe. Something in between some kind of pharmacy, field or meadow. In general, I can not say that I like him. But not particularly nasty.
The consistency is average, rather closer to thick. To be honest, it seemed to me fat for my skin. My forehead and nose are greasy. The cream, though moisturized the skin, but added fat to these areas. I began to use it only after the mask.
But in the winter it was just as well. I lightly tapped it on my cheeks with light tapping movements and so I was saved from weathering.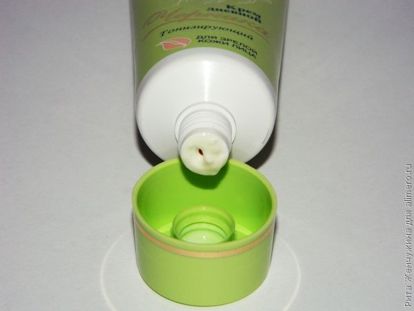 I think that for such a price the cream is more than normal. He is not enough stars from the sky, does not work wonders with the skin. But with the normal day care function copes. To be honest, it seems to me that it would be even better for dry or normal skin.