Very often during the summer heat, I completely forget about all kinds of cosmetics. And not at all because my brain melts from the heat and memory problems begin. Just when the temperature outside is 30, all creams are felt on the skin as a concrete mask. Or they turn into something fat and sticky, which you immediately want to wash off.
In general, at this time of year, you absolutely do not want to overload your face with cosmetics. But the skin is still asking for moisture. What to do? Look for the easiest day cream. And I found this – Clean line with aloe and cornflower.
Appearance cream
The packaging of the cream is convenient – a narrow elongated tuba. But not big – only 40 ml. On the one hand, this is a plus – a small package can fit in any cosmetic bag and purse, it is very convenient to take it with you. On the other hand, the minus quickly ends.
The color of the cream is white, slightly watery in consistency, not thick.
Smell – a pleasant, floral. Not very strong, but still quite tangible for day cream. I like it better when the cream doesn't smell at all, it's not a shower gel or some kind of soap.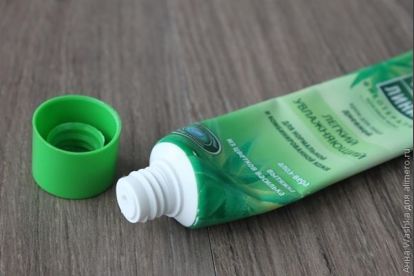 The composition and what the manufacturer promises
The composition of the cream, of course, chemical. The only herbal ingredients are aloe vera and cornflower extract somewhere at the very bottom of the list. But, looking ahead, I will say that in the case of this cream, the effect of its action overshadows all other negative aspects. So the composition is better just not to read.
The cream is designed to moisturize the skin, keep it smooth and matte, tighten pores and protect from harmful effects.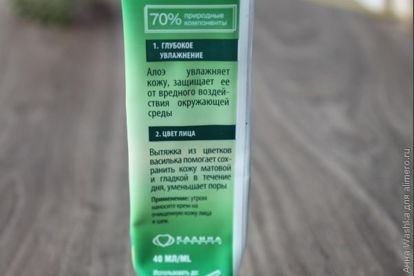 I often saw this cream in stores (and it is sold almost everywhere), but I was very confused by the price. It is very, very cheap – only about 40 rubles. Agree that for such a price at first glance nothing good can be bought.
But my sister praised me very much this cream and therefore I decided to try. And I was delighted with him!
After applying the cream is very well and quickly absorbed and leaves no greasy marks. No effect of mask, film or oil on the face. As if the water washed!
But at the same time the cream really moisturizes. Removes dryness and leaves a very pleasant feeling of freshness and smoothness.
Perfect cream for summer! Especially for skin prone to oily or combination. And if you take into account its cheap price, it's not a cream at all, but a find. So in this hot season, he will definitely be my number one hit!