In my youth, I suffered from dark spots on my elbows for a considerable time. I was embarrassed to put on clothes with short sleeves, afraid to open my elbows for everyone to see. I thought, and these thoughts were not unreasonable, that those around me would accuse me of uncleanliness and negligence.
What makes your elbows dark

The Internet at that time was not so developed, so that you can easily find a solution to this problem on your own. I turned to mom for advice, and she explained that elbow circles are dead skin that cannot get off on its own due to increased dryness.
A little later, I learned that any factors that dry up the skin lead to such consequences. It can be dry air in the apartments, due to working in the winter, radiators, exposure to sunlight in the summer, as well as a lack of vitamin E in the body.
And if the lack of vitamin E can be eliminated by starting to consume more cabbage, tomatoes, dairy products and vegetable oils, then the results of external influences need to be fought locally.
Scrub mask for elbows at home

Now there are a lot of various scrubs for sale, but as a teenager I was peeling a gruel of lemon juice and drinking soda. Mixed these two components. Well rubbed the resulting mass of problem areas and left for 10 minutes.
Lemon has excellent whitening and softening ability. And soda, besides the fact that it mechanically removes keratinized skin, also absorbs dark pigment.
After this procedure, the elbows become soft and light, so that you can safely wear a short sleeve.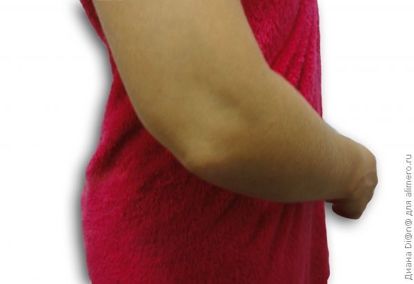 Glycerin Elbow Mask

I really liked the mask for the elbows containing glycerin. I also did it myself at home. The recipe read in one of the books for women of the Soviet edition, found on the shelf at the mother.
To prepare the mask, I also took lemon juice, vitamin E and glycerin. Last bought at the pharmacy. All carefully mixed and applied to the darkened areas. And after 15-20 minutes wiped with a damp cloth.
Such a composition not only whitens and softens the skin, but also nourishes it with vitamin E, which is necessary for its smoothness, softness and elasticity.
Now I have enough of the usual procedure of peeling elbows, when I use body scrub for the whole body, as well as moisturizing with milk or balm. But in rare cases, I apply the cardinal measures described above. For example, after spending a long time under the scorching sun in the garden plot in the country.
Have you encountered the problem of darkened elbows?