Girls, today I will talk about one wonderful shower product that combines cleansing and care. This cream scrub Milk Homemade recipes Home Spa.
The manufacturer (Russia, the first solution is the same as that produced by Siberika Nature and Organic Shop) promises home care for sensitive skin. The series combines traditional recipes and the secrets of spa treatments. The peach pits in the composition provide a gentle massage, and pistachio milk and milk proteins intensively nourish and moisturize the skin.
Packaging and appearance
Scrub cream is enclosed in a plastic, white, opaque jar with a screw cap. There is a plastic partition. Volume – 250 ml. The bank is strong, all the inscriptions and stickers during the shower punch are not peeled off or erased. The scrub itself is milky white with blue inclusions of a cream-gel texture. While taking a shower through his fingers does not run away.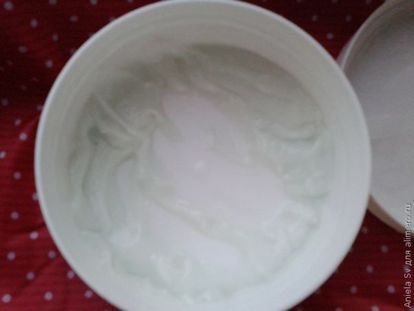 Particles are small, therefore, they scrub and peel carefully, you can use it every day. The cream foams, but weakly. It has a very gentle light fragrance, it smells nice and unobtrusive. After washing, the aroma on the body is not preserved, which is a pity.
The cream does not dry the skin, but on the contrary, it moisturizes and nourishes, you can not apply body brush or lotion after taking a shower. Scrub is quite economical, if you use it as a scrub, and is not suitable as a shower gel, as it gives a little foam. I use it 2-3 times a week.
The composition of the water with extracts of pistachio milk, dairy proteins, walnut oil, hydrogenated castor oil, sunflower oil, glycerin, food preservatives – acids. The composition is good, however, as with all products of this manufacturer.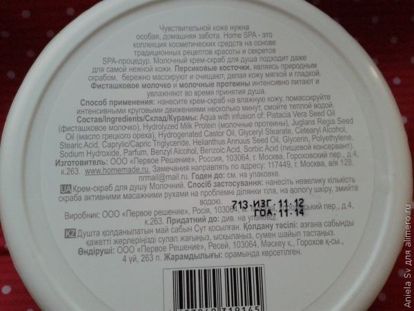 Summary
Excellent scrub for every day – gently exfoliates and softens the skin, with a good composition and for little money. I bought it for 129 rubles.
Did you use such cream scrubs?