Art Line eyebrow and eyelash cream I used for the first time. Eyebrows and eyelashes for a long time did not tint similar cosmetic means. I mainly use only eyebrow pencils and mascara. But recently I had an idea to buy eyebrow paint and apply it for the intended purpose.
Recently went with the child on Watson, and Art Line (black) came across. I have never used this paint before, but still decided to buy it. In addition, it was sold at a promotional price of 5.5 UAH.
Art Line paint description
The paint is sold in a plastic box with a cardboard lid. Inside it are 2 bags of paint (5 g), 2 bags of oxidant (5 g), 2 cotton discs and a spatula for mixing. On the cardboard cover is written information about the composition and application of this cosmetic. The set is designed for 2 colors.
Its manufacturer writes that this paint will give your eyebrows and eyelashes the color of the shining black diamond, and the process itself will pass quickly and gently. He also promises that the effect of staining will continue for a month.
The package says that you need to make a test of the sensitivity of the skin to this paint. But I did not suffer from allergies to such cosmetics before, so I didn't test for sensitivity.
It is very convenient that there is a plastic box – you can dilute the paint in it. Because of this, I did not have to look for some old cups that, after use, are difficult to wash off paint.
My experience with Art Line paint
First of all, I applied a fat cream around the eyes. Then he mixed in a plastic tray the contents of 2 bags of paint and oxidant. At first the mixture was white in color and thick consistency, and then it darkened. I took the spatula, dipped it in the paint and painted her eyebrows. Then put a cotton pad under one eye and painted eyelashes on it. I performed a similar operation with eyelashes on the other eye.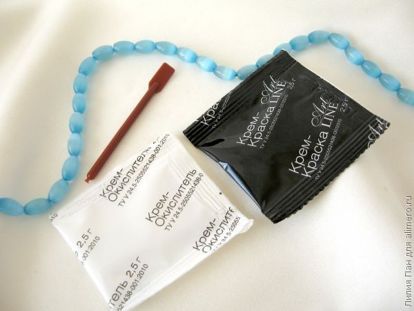 With my eyes closed, I waited for about 7 minutes while eyebrows and eyelashes were painted. I didn't want to intensively dye my eyebrows black, so I didn't hold the paint on them for 15-20 minutes. At the end of the procedure, I washed off the paint with warm water. During the staining there was a slight burning sensation in the eyes.
Of course, immediately after painting, the eyebrows and the skin under them became dark black. But the next day, the eyebrows looked natural, and the paint from the skin was washed off.
I liked this eyebrow dye. The only drawback is the lack of a convenient brush for painting the eyelashes.
What eyebrow paint do you use?