I can not imagine taking a shower or bath without fragrant shower gel or bath foam. I like fruit, sweet aromas of shower gels very much and almost always choose some sweet or fruit aromas. The hero of today's topic has fallen into my hands for a shopping promotion and I want to tell more about it today.
At first, a rather big gel bottle with a nominal value of 800 ml scared me a little. It seemed to me that I never use it. But, I managed to empty the jar for 4 months. True, this helped me to the daughter, who decided to make complete relaxation in the bathroom, and the dog, which was all smeared after the walk. For such a large amount, I paid only about 15 UAH. or 60 p.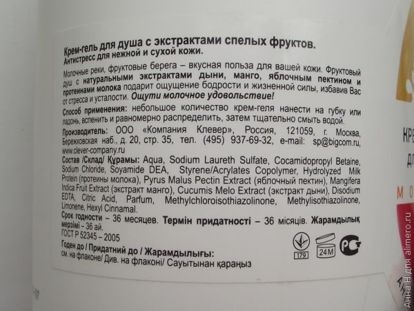 The manufacturer assures that it is possible to find apple pectins, natural extracts of melon and mango, and even milk proteins in the composition. So much of all useful and necessary for our skin for only 60 rubles?
Of course, laureth sulfate was put first in a jar, but more. However, as stated on the packaging, the composition does have melon extract, mango and milk proteins.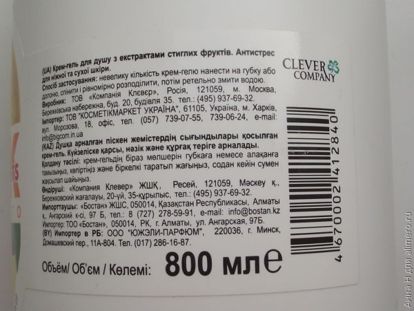 My impression of use
As you understand, for that kind of money, nothing superb good can be expected, but I did not expect it either. Large volume, nice texture of the gel. As for the smell, it is not mango, but just pleasant. Somewhere there are notes of chewing gum from my childhood, but not the mango. In addition, the smell on the skin does not remain for a second. After taking a shower, the skin does not smell anything.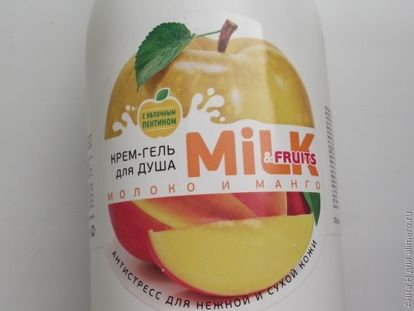 It washes well and its excellent foaming properties. My daughter convinced me of this when she threw a decent amount of gel under the stream of water. The foam was very elastic and strong. As a bath foam, I highly recommend this shower gel, and it's not a pity to put it in the bath just for the pleasure of it.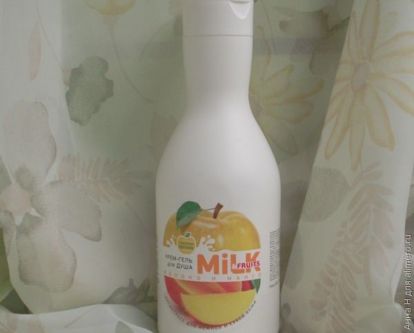 If you need a budget tool for taking a shower, feel free to buy this one. It has a large amount, enough for a long time. It smells absolutely neutral, foams well.
The consistency is slightly watery, but you can control the dosage using a rather narrow dispensing opening. No allergies, and my skin is very prone to reactions, rashes, was not observed.