I wrote about the cosmetics of the Russian brand Organic Shop once, then it was hand creams. And today I want to talk about foot care products.
The tubes are exactly the same as those of hand creams, the standard ones are 75 ml. Since opening use within 12 months. The cost of each – 60 rubles.
Noteworthy is the inscription No SLS, parabens, silicones. Neither sodium lauryl sulfate, nor parabens, nor silicones are observed in the composition.
Foot cream gel cooling and relieving fatigue
According to the manufacturer, the main task of this cream is to refresh, moisturize and soften the skin of the legs, as well as relieve fatigue.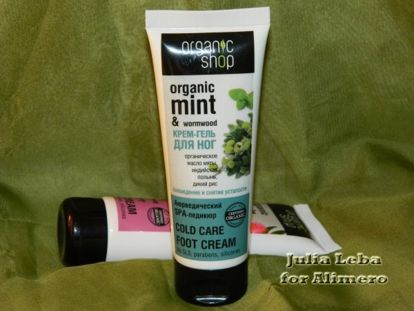 The composition of the cream-gel includes the following components: organic peppermint oil, organic extract of wild rice, organic extract of Indian wormwood, sesame oil, eucalyptus extract.
What I liked
– pleasant to apply
– has a refreshing effect, but no feeling of cold feet :), which is present in many refreshing creams and I do not like
– rather thick texture
– interesting smell … it reminds me of lollipops with menthol and eucalyptus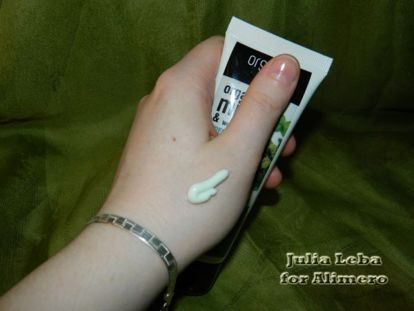 What I did not like
– removes only light tired feet. If all day I was really on my feet, and in the evening they are buzzing, then this effect does not exist at all. In the morning, tiredness still makes itself felt. In this aspect, this cream-gel can not be compared with the balm-rub First-aid Kit Agafi, about which I wrote earlier.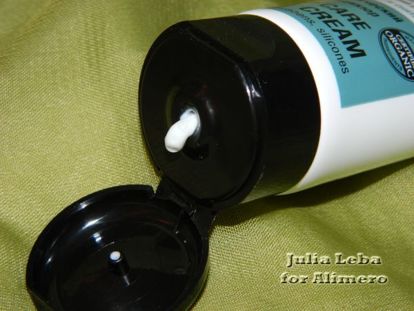 I liked this cream gel. In the end, the main thing for me is that the skin on my legs should not be too dry, should not peel. With this feature, he copes.
Well, and to relieve fatigue, you can use specialized tools. By the way, most of them, coping with this task, do not soften and nourish the skin, like an ordinary cream.
Foot cream-balm protection and restoration
The manufacturer claims that this cream balm softens, nourishes and protects the skin of the feet, and perfectly relieves fatigue.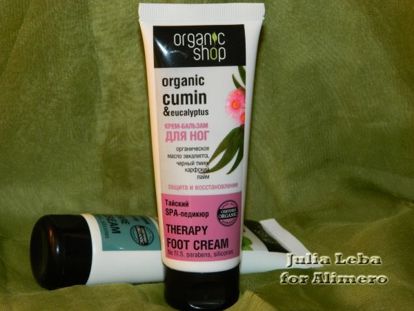 The composition includes such remarkable components as organic eucalyptus oil, organic black cumin oil, organic lime extract.
What I liked
– softens and nourishes the skin
– struggles with peeling
– moisturizes the skin of the feet
– Smell, no less interesting than the cream-gel. This reminds me of some kind of lemonade from childhood 🙂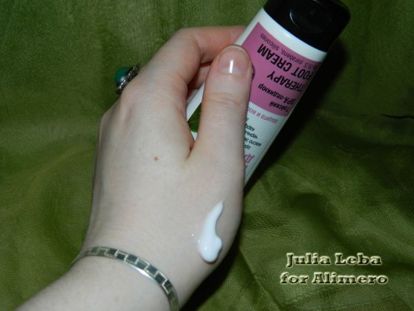 What I did not like
– the effect of relieving fatigue is the same as that of cream-gel
– the consistency is quite liquid, as seen in the previous photo
A good tool, but I like thicker creams, they are more pleasant to apply and, as it seems to me, they are better absorbed. Foot cream-gel cooling and removal of fatigue just buy more, but this is most likely not.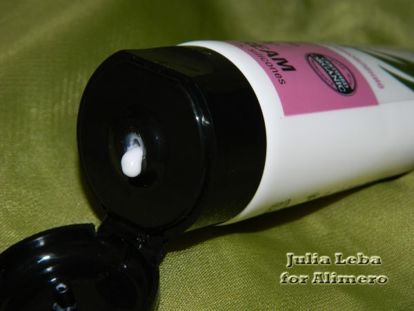 Foot creams, as well as Organic Shop hand creams, have one feature – a cumulative effect.
When you start to use, you wonder if you made the right choice, because in the first days there is no result. But after a week and a half daily use, the effect is really visible. I did not attribute this to minuses, since the ultimate goal is still reached.
In general, this brand continues to delight me. Nothing supernatural, but a good option for frequent use.