The problem of stretch marks, I think, is familiar to many not by hearsay. They can occur anywhere (often chest, abdomen, thighs) and for various reasons – from dramatic weight loss or sudden weight gain, during pregnancy or after childbirth, due to the natural properties of the skin (the result of heredity).
To begin with, now a wide selection of creams for stretch marks, produced by different companies from different ingredients. Find out in advance whether the cream will help or not is almost impossible. The only help is to read reviews. This, in fact, is the meaning of this topic.
But it should be remembered that even if this cream helped someone or vice versa had no effect, this does not mean that you will have exactly the same result. After all, initially, each person has their own skin properties – who have more elastic and elastic, who has less.
However, if you meet a lot of negative reviews, I do not advise taking products. Although, of course, this will be your personal experience, but, in addition to wasting money, you can still miss the time, using an inactive cream.

Universal cream for stretch marks Vichy
My girlfriend, trying to prevent stretch marks, started using Vichy cream even in the third month of pregnancy.
She chose this remedy not by chance, since at that time she was actively using the cosmetics of this company. True, all the products were mainly for face care – tonic, cream, milk, facial wash, as well as my favorite makeup remover 3 in 1, which she constantly praised me =)
The cost of the cream at the time I find it difficult to call, but who used cosmetics Vichy, roughly guided in prices. Cosmetics of this company can not be called cheap.
Not without difficulty found a photo of this cream. The fact is that now it is not in this format.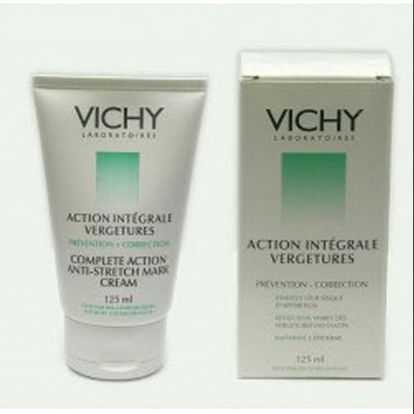 Now the same cream is produced in a slightly different design and the volume is already 125 ml, and 200. It costs about 1,300 rubles.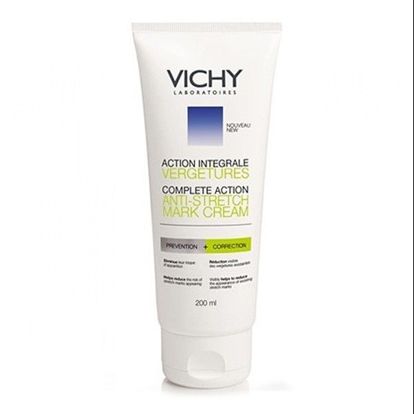 The cream for stretch marks Vichy includes nourishing vegetable oils, silicon, thermal water Vichy, hydroxyproline. And, of course, it can be used during pregnancy and lactation.
A friend put it on dangerous areas – chest, abdomen, external and internal sides of the thighs, buttocks twice a day. Used for a long time, with short breaks.
In the end – no stretch marks. True, she can not say with certainty that this is a 100 percent merit of this cream. Yes, and find out in this case is difficult. However, she did not have stretch marks, either during pregnancy or after.
And she also especially noted that the cream is perfectly absorbed, the skin is smooth, well-hydrated and elastic. The only thing she did not like the smell of cream. When she gave me a try, the smell seemed pleasant to me. But … one thing to smell once, another thing – to use constantly.
Cream for stretch marks Mamma Donna firm Chicco
During the second pregnancy, my girlfriend was much calmer about her pregnancy as a whole and about the possibility of stretch marks, too. However, in the sixth month she faced this problem when stretch marks appeared on the chest and the inner side of the thighs.
Then she did not find the same Vichy cream, and she wanted something cheaper, since there were plenty of serious expenses. She went shopping and chose Mamma Donna cream containing wheat germ oil and rice oil. Its cost is about 500 rubles.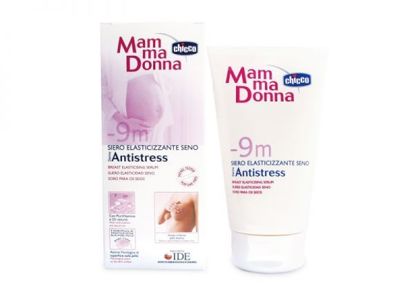 The Italian company Chicco produces various products for pregnant and lactating women. A friend used exactly cream. I draw attention to this, because I know that serum against stretch marks is very common in this company.
Either because time has already been missed, or for other reasons, but this time the result was not as good as during the first pregnancy. Although, it should be noted that the very state of the skin at this point was already different, there was no such elasticity as before.
However, a friend also noted that it moisturizes well, makes the skin more elastic. In my opinion, all this is good, but the main goal of this cream is different.
Is there any merit of this cream in the fact that new stretch marks have not appeared? Probably still yes. But he did not cope with the already existing stretch marks (at the time of the beginning of the application of the cream).
But it was quite unexpected that Mamma Donna cream removes pigment spots. It also absorbs well and has a pleasant smell, as it seemed to both of us.
Summing up, I can say from the experience of my girlfriend that these creams – both Vichy and Mamma Donna are not bad in general. Of course, a lot depends on the properties of the skin itself. If it is by nature rather flabby than vice versa, then the situation cannot be radically corrected with creams.
However, creams can help prevent the emergence of new stretch marks and keep the skin in tone, especially for problem areas.
In my opinion, it is best to experiment with creams and choose the best option for yourself. In any case, it is useful for the future, even if in the near future there are no other births.
And what means of stretching do you use?