What kind of child doesn't like to splash in a warm, pleasant-smelling bath? And if there are also fragrant bubbles – delight is guaranteed. Yes, and after such procedures sleep so well!
In a fit of a hot desire for her daughter to take baths almost daily, bath foam was purchased from the Little Fairy company. Impressions about the product read below.
Bath foam, as expected, is needed for a pleasant stay in the bathroom. The tool has additional properties: it softens water, moisturizes the skin. The package states that it can be used by children from the age of three. Also, the manufacturer indicated that it is desirable to foam under a stream of hot water.
Of course, not without Lauret Sulfate. But it is this controversial chemical that creates such desirable bubbles. Also, there is alcohol in the product. It dries the skin, this must be remembered and in time to use moisturizing milk or cream. On the last lines I also found fruit oil and flower extract.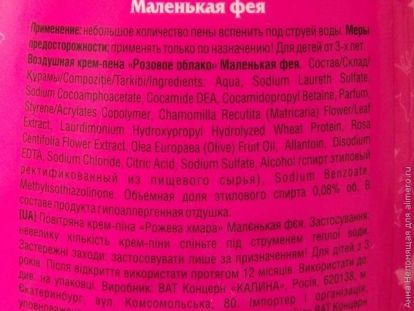 Impressions of use
The packaging is very convenient, the lid is tight, but at the same time, it is easy to open. My three-year-old daughter copes with this task very quickly. The volume is not large – only 240 ml. Finish the tool pretty quickly. If we take into account the cost – about 24 UAH. or 71 rubles. – it comes out quite economically.
The smell of the foam is amazing: gentle, fresh, light, not intrusive. For the first time, the scent of a rose in a cosmetic product came to my liking. He really is awesome!
After bathing the skin a little bit. Without moisturizers can not do here.
Foam remedy is excellent. Not a large amount was enough for the whole bath to be like in the clouds. If you dissolve it under a stream of hot water, you will reach the greatest amount of foam.
In general, the foam for the baths and I and my daughter are extremely satisfied. Most likely, we will try these products for home spa treatments. I recommend to purchase all lovers to take fragrant, air baths.