And you have this: go yourself, walk, and then bam! Urgently need to spread your hands with cream. That's so urgent that I'm not gonna get home. It happens to me when I forget to anoint my hands before going outside. It happened at that time. My hands were drained to a terrible state, so I had to go to the store. There I caught the eye previously unnoticed by me cream.
I respect the products of the company Purea Line. Not every domestic (for some reason, I also consider Russia to be my homeland) the manufacturer is achieving such popularity among buyers. I like many products of this brand, therefore, without hesitation, I took this particular tube from the shelf.
The volume of the cream is criminally small – only 40 ml. To carry it in your purse just enough, but for home use – enough for a maximum of a week. However, the cost of 7 UAH. or 27 rubles. not high.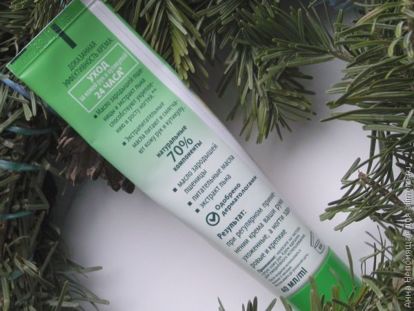 The promises on the package as usual are just fabulous. Judge for yourself: the cream strengthens the nails, intensively nourishes, absorbs quickly. With regular use, hands are well-groomed, nails are healthy and strong. And all this for a minimal price.
As the manufacturer says, the composition contains wheat germ oil, flax extract and other nourishing oils. But, upon closer examination of the lines of the composition, one can notice only chemical compounds in the first places.
Of all the qualities declared by the manufacturer of the cream, I can note only one thing: rapid absorption. The cream is perfectly distributed over the skin, instantly absorbed, has a pleasant texture.
The smell disappointed me a little: sharp, cloying, but quickly disappears. Whether the cream from the old stock, or the company has returned to the perfume, which was used in all the tools previously.
The effect of moisture and nourishment lasts until the first hand wash. The cumulative effect declared by the manufacturer is completely absent. Although it may be necessary to use this cream for months to see the desired result? A 40 ml tube is not provided for this.
In general, I can say that the cream is very mediocre. Odorant nasty, food is not up to par. And besides, I really don't like it when they cheat me. I will not buy the product anymore and I do not advise you.