I myself have not been to Thailand. But about the magical properties of coconut oil from this country have heard many accolades. Therefore, when my friend and her husband gathered for a vacation in Thailand, I asked her to buy me more of this oil. Frankly, coconut oil has become one of my favorite beauty products.
How to choose?

Choose high-quality coconut oil is quite simple. You just need to remember a few criteria.
1) Color can vary from transparent to light yellow.
2) It is advisable not to buy oil in the markets and without labels, you can run into poor quality oil. It is advisable that the GMP logo be present on the label. This emblem just ensures that you buy the best oil.
3) The smell should not be sharp. The presence of pungent smell indicates the use of artificial additives. So you need to smell the oil before you buy it.
4) If after the flight, your oil from the transparent and liquid became thick and white, do not throw it away! This, on the contrary, speaks of its naturalness. At temperatures below 25 degrees, the present oil thickens. And that's fine! It just needs to be melted in a water bath or it will instantly melt on the skin.
Moisturizing skin

I put coconut oil on my body after a shower. You know, I have not met the means for the body better! First of all, it smells amazing! It has a very tender, not sharp, sweetish smell. Secondly, it is perfectly absorbed, unlike other oils, and you do not need to pour a full palm of oil, only 8 drops are enough to moisten the whole body.
I always put coconut oil on my legs after epilation. Because of this, I never have irritation, red spots after epilation and the skin is surprisingly smooth. I also rub my legs and arms if they start to become dry. Dryness blows away like a wind!
My girlfriend constantly uses coconut oil for tanning and always comes from a holiday like a chocolate bar. I also want to try!
For hair

I liked making hair masks from coconut oil. I simply apply the oil completely to the hair, especially paying attention to the tips of the hair, because they are very dry and on my scalp. I put a packet on my hair and wrap it in a towel. So I walk about an hour or two, and then wash it off. By the way, this oil is washed off much better than burdock.
The effect is great! If you have dry, damaged hair, like me, then you will be delighted in general! I also occasionally put oil on the ends of my hair just in the morning. The only thing it should be quite a bit. I literally half the droplets rubbed between my fingers and rubbed into the ends of the hair.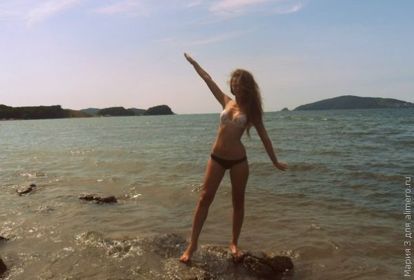 Have you tried coconut oil? Tell us about your experience of use, it will be very interesting to me!