I have already written about coconut oil, but it seems to me that one can talk endlessly about this unique remedy. It is so beneficial effect on the skin and hair, that not try it – it is a crime in front of him. Today I will tell you in detail how with this oil I am doing a full body massage.
About oil

Coconut oil usually has a creamy white texture, because at temperatures below 25 degrees Celsius it hardens. They say that it is necessary to melt it in a water bath, but I do not do it, it instantly melts on the skin itself.
At the bottom of the bottle sediment in the form of coconut chips. His smell is unobtrusive, but very pleasant.
For heels

Coconut oil can literally massage the whole body. When my heels dry, I smear them with coconut oil, massage for about 10 minutes, usually do it after a bath. Then, wear socks and go to bed. In the morning, the heels will be incredibly soft.
Cracks, of course, does not heal, but soft, pleasant skin on the heels is wonderful. So if you are faced with dry feet – run for coconut oil!
For body

To massage the whole body, I use both coconut oil and add other essential oils to it. One of my favorite recipes is a mixture of coconut and almond oil. I take them in a teaspoon, mix and massage over the whole body with massage movements. You can not imagine how they moisturize the skin! This is something! And what does the skin smell like …
Completely forgot! Although I am still young, I still moisten the cleavage zone. Coconut oil is perfect for this. I apply it with light, massaging movements to the neckline and neck. I hope it will save me from fine wrinkles and keep my skin young for a long time.
The only minus of coconut oil – it is absorbed into the skin for a long time, but the effect is worth it!
Wrapping

Often, after taking a bath, I do a wrap with coconut oil. To do this, take 1 tablespoon of coconut oil, a couple of tablespoons of clay and add orange essential oil so that the wrapping is not only moisturizing, but also anti-cellulite. I apply this mixture on problem areas (thighs and buttocks), wrap with cling film and walk for about an hour.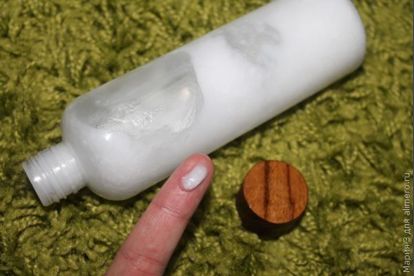 Who has the opportunity, be sure to buy this oil in countries where coconut grows (Thailand, Bali, etc.). They say that there it is the best. In general, coconut oil can be prepared at home by yourself.
And you do yourself a massage with coconut oil? What are the sensations?