I got acquainted with the products of Clinique a year ago when I was presented with a set of this cosmetics 3-step system. The set included a cleansing gel soap, tonic and cream-gel for the face.
What is a remedy?
The manufacturer calls this product gel, although in fact it is a moisturizer. The consistency of it is still not as thick as conventional creams, but liquid can not be called.
In the set was a gel in a plastic tube with a volume of 50 ml with a unscrewing cap. In general, I saw similar gels in a different package — a glass flask with a spout dispenser, which, in my opinion, is more convenient. And so, I often squeeze out the gel a little more than is required, and you can't fill it back.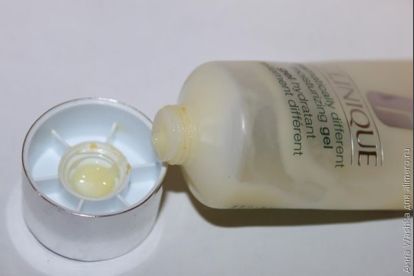 The color of the gel is rich yellow. The smell is not the most pleasant. I would call it too harsh and somehow too chemical. However, after applying to the face, this smell quickly disappears.
What the manufacturer promises
First of all, the gel is designed to restore and maintain skin moisture. So, make it more smooth, delicate, improve the complexion.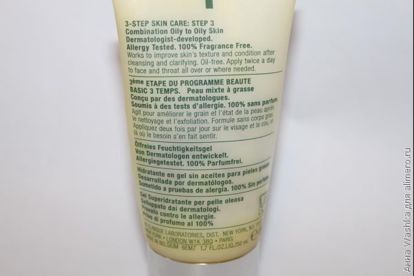 For greater effect, it is recommended to use it after washing gel and tonic from the same series.
Another stated property of the cream is that it can serve as a base or conductor for other moisturizers.
My impressions of the gel
I did not succeed in mastering the 3-step system completely, as the tonic from this series categorically did not fit me. Therefore, I used this cream-gel as a regular moisturizer. Has put it in the morning after washing.
Its texture is very light, not sticky, not greasy. It lies down on the skin very well, it is also absorbed almost instantly.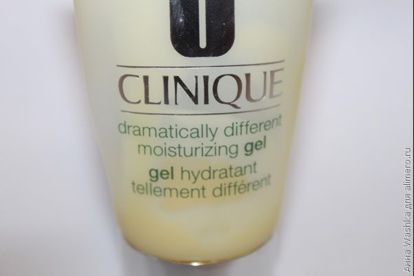 My skin is combined, with normal (turning into dry) and oily areas. But I really had enough of the moisture that gave the cream. I did not need to apply any additional funds.
Also, this gel went well under the foundation or bb. Cosmetics is not blurred and kept well.
I used the cream both in winter and in summer. And in both cases, the cream showed itself well. I did not need a strong moisturizer, but this gel from Clinics did very well with the function of light moistening.
The face remained really smooth, and the color was not dull. After a year, the jar is almost over (and this indicates its economy). Most likely, buy yourself a second package. The price, though biting – almost 1000 rubles, but worth it.