I love to try new things for personal care, and even more I like to try the tools that my favorite beauty bloggers have approved. This product was a scrub Clean line with apricot pits. Everyone ran, and I ran after him. Read about my acquaintance with this product below)
The manufacturer (Russia) promises careful removal of dead cells, smoothing the skin, improving the complexion. Chamomile in the composition soothes the skin, reduces irritation and redness, softens and tones the skin.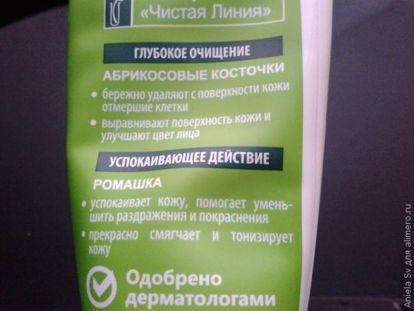 Packaging and appearance
The scrub is in an opaque soft plastic tube with a screw cap in the brand's green colors. On the tube itself I was pleased with the colorful images of apricot and chamomile and the inscription Approved by dermatologists. In the tube 50 ml of funds.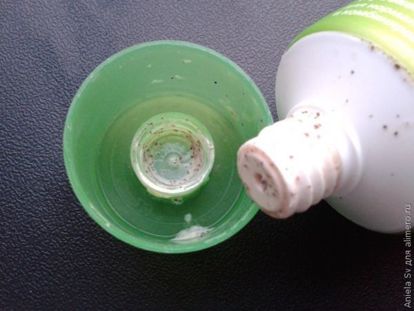 Cream-colored, thick consistency scrub with many brown inclusions – crushed apricot kernels. It smells very brightly branded perfume Clean Line (I do not really like it), but I knew what was going on
Unfortunately, the scrub was very hard for my skin. Already exfoliates, so exfoliates. My skin did not like it at all, it turned red, despite the fact that I used the scrub very carefully. It is also washed away from the face with difficulty, leaving an unpleasant film. It's good that I didn't score pores.
In general, I was disappointed in this scrub. But later, the thought occurred to me that since the scrub was not suitable for the face, maybe it would be suitable for other parts of the body – less sensitive? And I tried to exfoliate their hands – in the process of performing a manicure. And it turned out great! He peels my hands perfectly, not so hard, and is washed off more easily. So I adapted it.
Ingredients: water, apricot seeds, mineral oil, corn oil, chamomile extract. Pleases the absence of parabens. Unfortunately, I lost the box from under the scrub, so there will not be a full complement. The price per package is about 50 rubles.
Girls, do not despair if the facial scrub does not work – you can always put it on your heels or palms) And this scrub will please you, believe me! I was convinced of this from my own experience.
What kind of scrub do you use?