I have been in love with LUSH products for a long time and constantly try some interesting tools. So, having read on the Internet laudatory reviews about cleansing debris Eleksir nature, I ran to the store and bought it.
The first reason I love Lash is all-natural ingredients. There is no chemical filth. Just read the composition and rejoice. So, in skarbe present:
– ground almonds;
– kaolin;
– nettle extract;
– Rosemary extract;
– rice bran;
– gardenia extract;
– natural medicinal vegetable oils.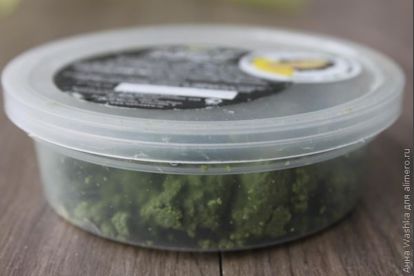 Appearance and smell
The scrub looks quite unusual, which is quite natural for Lash products. It is such a loose, oily mass of swamp green color.
Scrub for sale by weight. The price of 100 grams is about 300 rubles. You can buy at least 20 grams, at least a kilogram. But for the test it is better to still take a small amount of money.
Often in the store are already packaged jars of 50 and 100 grams. By experience I can say, if you use a scrub every day, then a jar of 100 grams. consumed directly back to back with a shelf life that is only three months (the composition is natural). If you use it a couple of times a week, then 50 grams. enough for the eyes.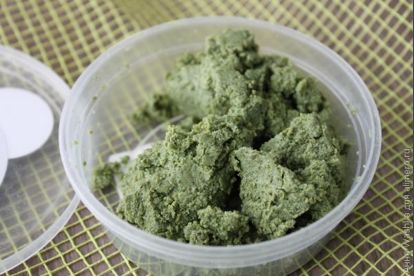 The smell of scrub is also very unusual for a cleanser. This is such a mixture of macaroons and fresh pastries with notes of something bitter. In general, a very fresh and natural smell. Personally, I like him, although many consider him an amateur. Well, apparently, I'm the amateur.
How to apply
From the total mass it is necessary to break off a small piece, the size of a small coin. The mass can be quite crumbly, then it immediately breaks up into grains. And maybe wash more oily and plastic, then the piece will be similar to clay. It all depends on the batch and batch. Indeed, each time the proportions of the ingredients are slightly different.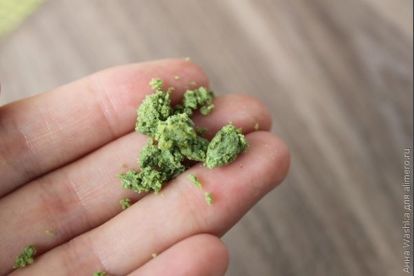 Add some warm water to your hand and rub the scrub with your fingers to a slurry. It turns out liquid oily mass with hard grains inside.
This mass and apply to the face slightly massaging it. I still leave the scrub for a few minutes on the face and neck, like a mask. Then wash off with water.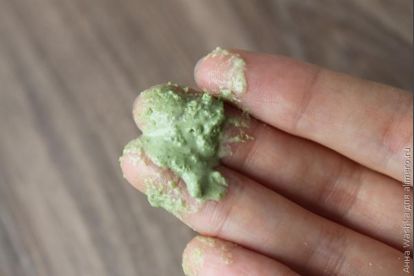 My impressions of the tool
Scrub is intended primarily for problem skin. I sometimes have such a thing, and this scrabik acts on her just fine! Pores do not clog, cleans well, but not to squeak, but very gently and carefully.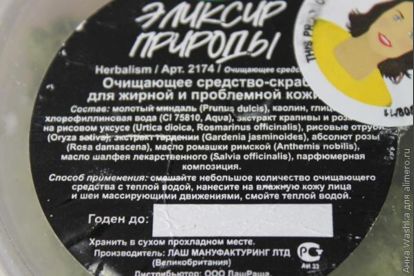 It also acts as a moisturizing and vegetable care product, because it contains many oils that have a very good effect on the skin.
After washing, the face becomes refreshed and silky. In general, a wonderful effect. I continue to use it and am very pleased.