For sure, enlarged pores are a problem for almost all girls. At least in the nose, but they are. My most problematic areas are the nose and chin. Not to say that they are very ugly. Others don't see them, but I see them! And they annoy me, so I'm trying to deal with them.
And how can you deal with black spots and enlarged pores? Recently, I have a short conversation with them. By trial and error, I discovered a wonderful tool – white clay. True, in its pure form, I did not buy it once. I think it's worth a try. But here in the composition of one mask I liked it is present.
Mask Clear Skin Avon

In white clay, I think, is the secret of this mask. I bought it from a friend in the Avon catalog for quite some time. It is a pity, but soon the expiration date will be released. And the second one in the catalog is already gone. Actually, I tell you, the Avon product range has deteriorated somewhat. The catalog is no longer a wonderful eyeliner, which I loved so much. And the foot cream I was using disappeared.
Anyway. Nevertheless, thanks to this little mask, I found out that white clay is an excellent remedy against black spots. In addition to white clay, the mask contains salicylic acid 0.5%, which, as you know, dries and heals inflammation on the skin. It can even be used as an independent remedy for the treatment of acne.
It also contains extracts of gamelis and eucalyptus. Eucalyptus not only treats colds, but is a wonderful natural antiseptic. It is used on a par with calendula. Tannins in the composition of eucalyptus narrow pores and regulate sebum metabolism.
Gamelis is a shrub with unusual yellow leaves. They are used in cosmetology and perfumery. It softens the skin, tightens pores, has antibacterial properties. It is therefore recommended for the care of oily and porous skin.
The mask itself is white. Keep it on the skin need only 5 minutes. It may be even longer, but this is usually enough to make the face ache and cracked like a mummy. And, as in a fairy tale, an unearthly beauty hides under this terrible crust. I put it all over my face. For prevention.
White Clay Properties

White clay itself is a valuable ingredient in cosmetology. It relieves acne, regenerates the skin and improves lipid metabolism. It also nourishes the skin with minerals. White clay is an indispensable component of acne treatment, acne and oily skin care products. White clay products are suitable for sensitive skin.
I'll tell you how I do it. I used to regularly visit a beautician. But for some time I realized that the pore cleaning procedure can be done at home, even much faster and more efficiently. The most important thing is to steam the skin, relax it. When the skin is soft and moist, you can proceed to the procedures. And try to squeeze a pimple when it is dry? Will not work! Or it will work out, but on the spot of the pimple a red inflamed spot is formed immediately.
First you need to steam the skin. To do this, heat in a large bowl a decoction of chamomile, calendula and sage. You can add different herbal fees, or come up with your own. Chamomile and calendula together also have soothing properties, so the effect will be twofold.
When the broth warms up, we make inhalations, that is, we cover ourselves with a towel and sit over a bowl. When you feel that the face is steamed out, you can proceed to the second stage. Surely, each of us has a facial scrub. After the steaming procedures, the scrub effect will be more noticeable. If the skin has visible acne and you can not wait to squeeze them, now it can be done. But just before that, be sure to wipe your finger with an alcohol solution, or wrap it with cotton swabs.
Now you can use a mask. The pores are open, the skin is relaxed and susceptible to the effects of funds. By the way, white clay masks are applied on steamed skin. This is preferable, as the effect doubles. In any case, if you do not have the opportunity to pre-steam the face, you need to apply the mask on cleansed skin.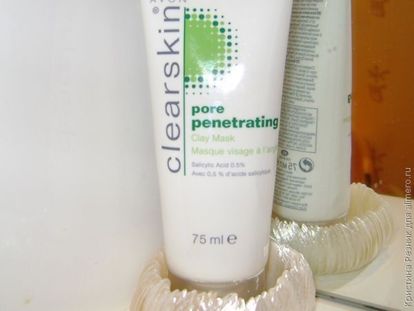 Result:

When you wash off the mask, the face really seems to be updated. It becomes light, there is a blush, the skin glows from the inside. Together with a dried mask, you wash away dead skin cells, dirt and excess fat. After this procedure, the skin is noticeably cleaner, the pores are narrowed, and the face looks refreshed.
More than once, comparing the result of the work of an experienced cosmetologist and the procedure described above, to be honest, I don't see much of a difference. By the way, after squeezing acne and other mechanical effects, a mask of white clay will be most welcome. It soothes the skin better than any lotion, removes inflammation and redness.
Reznik Kristina for the site alimero.ru
Did you use white clay?