Somewhat unusual name for a review of foot cream, isn't it? Frankly, this is the best and most gentle name that I could think of. In the store I was attracted by the bright packaging, promising slogans on the packaging.
After the purchase, I was eager to try out a new cosmetic product. I really liked the packaging! So bright, stylish and concise. The promises of the manufacturer instilled in me the confidence that I found my winter cream and now the problems with my legs have been solved.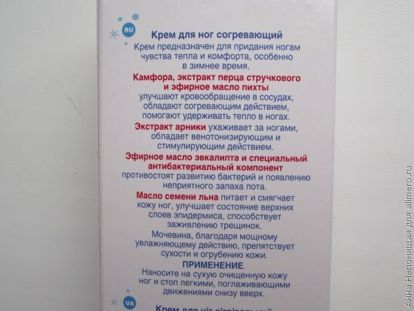 Judge for yourself: on the package it is indicated that the product is warming, antibacterial, and against unpleasant smell. Designed to give your feet a feeling of warmth and comfort, and especially during the cold season. Barely waiting for the evening, I gladly spread the legs.
Here he is downright wonderful! So many useful substances inside the tube: camphor, fir oil, chilli pepper extract … Wait a minute! Chilli pepper? Wow, what an organic composition!

Unforgettable impressions of use
Having done all the hygiene procedures beforehand, I settled down on the couch more comfortable, prepared socks and inhaled a wonderful, natural scent, spread the legs. The smell is really fir, pepper, well, very natural!
The first bell was in flaming hands after 5 minutes! I thought I was burned somewhere. Then I thought that I instantly had allergies to my hands. This sometimes happens if the composition is very chemical. But here he was so natural that I could not believe it. Only by carefully washing your hands under warm water, with plenty of soap, the burning stopped.
And what about the legs, you ask? The strange thing was that I did not feel any warming effect. Well, well, okay. Waiting for my husband, who comes rather late from work, I read a book. I was very fascinated, and then I understand that now my feet are burning! And they bake so that tears come out. At the pace of a dancing rooster in a frying pan, I ran to wash the cream off my feet.
Since the cream stayed on the skin for a longer time, everything was very thick, almost still until the morning. I hardly slept that night. But this is not the end of my torture! Forgetting that I put on socks in the evening after applying in the evening, I put them on for a walk with my daughter. It was my fatal mistake. After half an hour, I frantically wondered how I could quickly get home and wash my feet.
These are the unforgettable impressions I have left of the cream for the feet. If you suddenly, well, you never know, you need to try someone, feel free to buy Biocon's croutons. Issue price – about 12 UAH. or 45 rubles. for as much as 90 ml of torture!