Today I will tell you about my most-presam favorite body scrub, which I use not for the first time – it will be about the well-known and famous coffee scrub Organic Shop.
The manufacturer (Russia) promises to make the skin unusually soft and delicate, as well as give it a delicate exquisite fragrance. This delicious scrub is based on organic coffee oil and cane sugar.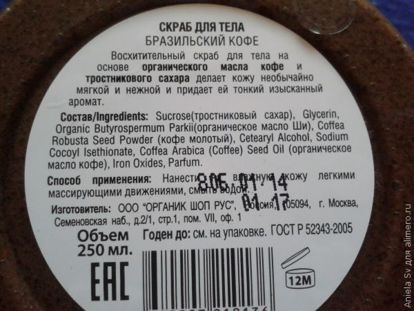 Packaging and appearance
The scrub is enclosed in a plastic transparent jar with a slam lid of black color. I really like these jars, as it is convenient to stack them in each other in the bathroom, without fear that everything will collapse. Through the jar you can see the texture and color of the scrub. A coffee-colored product with a heterogeneous texture, in which grains of sugar are visible – there are quite a few of them, and the scrub is very thick. The volume of a jar is 250 ml.
I still prefer sugar scrubs, because I consider them more effective than salt scrubs, and besides, they do not irritate the skin and do not pinch with small wounds. Separately, I want to say about the flavor – it is divine. I am ready to eat this scrub every time I use it. It smells like scrub freshly brewed coffee – my favorite scent)
Application and action
I use the scrub 1-2 times a week, depending on my mood. This scrub is easy to use – it is easy to recruit, it does not get stuck under the nails, it is easily distributed over the body. Scrubs moderately hard due to the sugar particles, but it does not scratch the skin, but only massages it. It is washed off easily, leaving behind a pleasant feeling of softness and velvety skin. At the same time, to my regret, the aroma does not remain on the skin.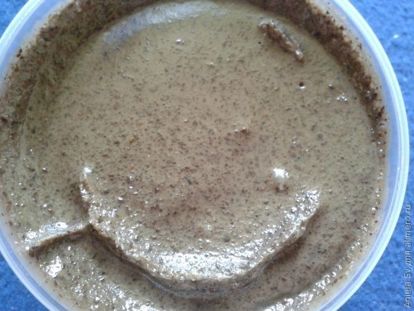 The skin after scrub is soft, moisturized, saturated with oils, but not greasy – a very pleasant feeling that persists long after washing.
The composition as always pleases: sugar, glycerin, shea butter, coffee. All ingenious is simple)
Well, you probably already understood that this is my favorite scrub and I am not ready to try something new (except for chocolate of the same brand)) I recommend it to everyone – this is really a must-have from Organic Shop. Cost – 129 rubles without discount.