Good day to all)
Passing by the windows with cosmetics and choosing a body scrub, I came across such a product.
I want to share with you about Salty scrub for body from Beauty Cafe.
What the manufacturer writes us: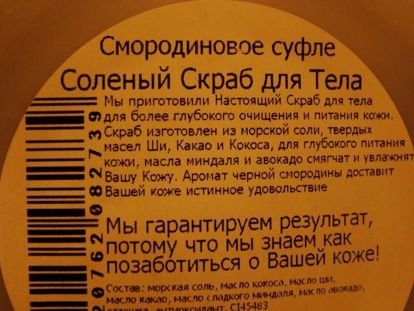 Now my opinion:
the sea salt is really felt in the oil
the scrub is very coarse, which is probably not suitable for sensitive skin (unless it is very hard to scrub)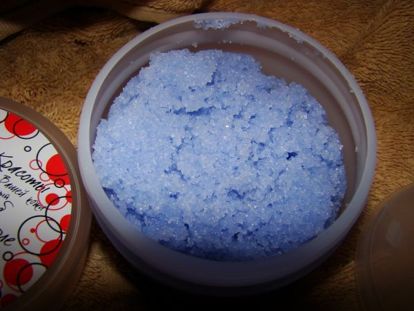 the smell is natural, someone may seem harsh, but my nose responds well to it
Scrub particles are quite large, so that the skin is well peeled off and after applying it really becomes soft and smooth.
you can use a scrub for your feet, I think he will cope with this task with a bang

Well, that's all))) No matter how good this scrub was, cons too.
Scrub is very inconvenient to type. A lot of scrub is left under the nails (I have accrued, therefore long, and picking it out from under the nails is not a very pleasant thing). In this regard, scrubs in tubes are a priority for me. But it's still an amateur)
The scrub has a dry consistency and when typing on the fingers, and then when rubbing the skin, a lot of scrub simply falls down. When mixed with water, the scrub somehow disappears and its structure does not change, i.e. it does not turn into jelly or something like that, it remains in a dry state, which again is not convenient when applied.
Total. Despite the small minuses and small pluses, I still bought this scrub a second time)))) But it definitely will not become an authority for me. I'm thinking of finding him an alternative.
Thank you very much for your attention.
Im Anya. Me on you