I try not to accustom skin to creams and lotions. But sometimes it is just necessary. For example, when you come from the sea and you want the tan to remain permanently. To do this, you need to moisturize the skin more intensely. So you remember what means for the body is in your locker. In this regard, Avon Care body lotion helped me out more than once.
AvonCare rich moisture
To begin with, after tanning, my skin so quickly absorbs any moisturizer that it becomes dry again after a few minutes. It seems to me. And I really do not like dry skin. Of course, the top layer, which is burned by sunlight, cannot be restored, and he will peel off anyway, but I want to push back the moment of blanching of the skin. And at least a little bit like tanned.
In this regard, Avon surprised me. Along with this lotion, I also use Avon foot creams. Pretty good result. Although, over time, their quality, it seems to me, has begun to deteriorate. Anyway. All good things come to an end. What am I talking about … Oh, yes. Lotion. The packaging is very big. On the one hand – enough for a long time. On the other hand, it always remains.
What is included in the composition:


– Natural oils that soften the skin: hydrogenated soybean oil, lanolin oil, sesame oil and palm oil.
– Vitamin E, which contributes to the preservation of skin moisture, and also helps in cell regeneration.
Among the products in this series are hand and face cream. And then there is Avon Care for extremely dry skin marked SOS. In addition, the lotion exists in several variations: a vitamin complex, water balance, winter care. I have – natural extracts. And for the holidays, manufacturers decorate the tools of this series with an original design.
You can find pros and cons of any cosmetic product. And from their ratio to determine the quality. Only, all individually. One is delighted, and the other is allergic. My skin is rather sensitive, I hardly like it, redness appears instantly.
According to my friend, who is a distributor of Avon products, this series of products is the most popular and is always in demand.
First, the pros:
– The consistency of milk, soft and not fat.
– It is quickly absorbed, does not leave neither a film, nor marks on clothes.
– Nice smell.
– Enough for a long time.
– Very favorable price.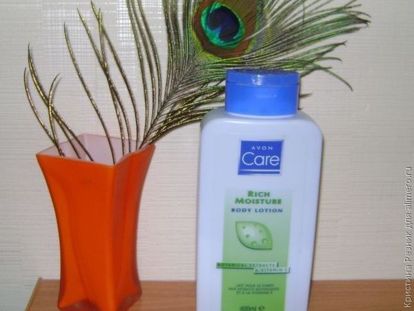 Now for the cons:
– Especially individually – I often forget about it and remember when the expiration date has passed. In a smaller container is not for sale.
More minuses do not see. On the other hand, if you look at the expiration date for the purchase, you can purchase this lotion in reserve.
After applying the lotion, the skin becomes soft and velvety. He really cares for the skin, and not just a means of a single exposure. The effect persists for a long time. This lotion is universal. It can be used both in summer, for moisturizing tanned skin, and in winter, when the air in the room is dry. It is a nutrient.
I do not pursue savings in terms of cosmetics. But, to be honest, this inexpensive lotion is not inferior to dear fellows. Did you use the products of this series?
Reznik Kristina for the site alimero.ru