The paradox of our government is in its logic. When it was 17 on the street, we were turned on the heating, and when it was 5, my daughter was sleeping under two blankets, and I could not get warm anywhere and nothing. Why am I writing all this? And besides, in the apartment we have now 25 and my skin dries constantly. The beauty industry and body cream comes in large amounts.
In the summer, my skin also needed additional moisturizing, but in winter everything is much more serious and I just can't do without cream. On the skin, I have the impression of a desert. The whole body tends to take the form of raisins and this feeling is not so pleasant to me that I am ready to smear anything.
Packaging

My previous tube of life-saving cream was over and the choice in the store fell on an attractive, juicy package with a convenient dispenser. Really uplifting with its design. The volume of 500 ml did not frighten me, because for me to use this cream is not a problem. Plus, it helps a little daughter, which is very interesting to press the dispenser.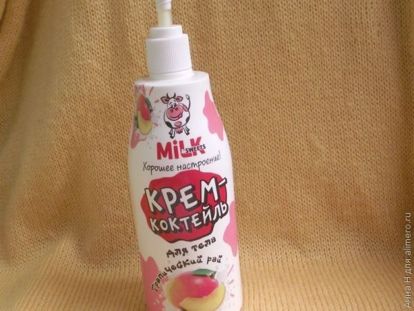 By the way, it turned out to be very convenient: body cream with dispenser. Now I will buy only those. You do not need to unscrew the cap, try not to drop the product if an additive is required.
Cost and smell
The cost of such a large can is about 25 UAH. or 100 rubles. You can buy it in any cosmetic store. Producer – Clover company, Russia.
The aroma, of course, is just amazing! Gentle, sweet, something like a sweet gum. It smells like mango.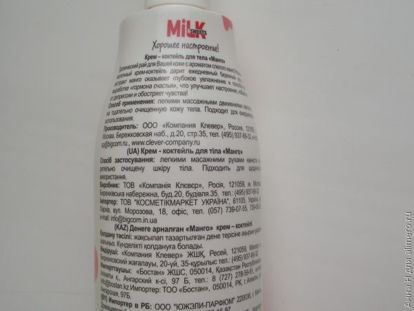 The cream is very light in structure, quickly absorbed into the skin. After leaving a sense of moisture, pleasant aroma. My skin reacted calmly to it. No problems or skin rashes caused.
It is recommended to apply a slice after a shower on clean skin. I use it that way and I have just forgotten about dryness. Also, I use the cream as a hand cream and even for the legs.
It is equally divided and useful components and somewhat harmful to the skin. But, in the modern cosmetic industry it is very difficult and almost impossible to make a completely natural product, therefore, personally, I just stopped reading compositions.
Despite the very low price, I am extremely pleased with the cream. What is surprising, the cream for 45 UAH. or 200 rubles. I caused a strong allergic reaction, but this one did not. With its responsibilities, the product copes perfectly well, I have no complaints about it in any way.
Do you use body creams? If so, which ones?