Today I would like to tell you about cacaobutter cream from Styx, which my sister gave me for my birthday. Then I was pregnant, but I ventured to smear the cream on my face, because I could not even read the composition – there was no Russian translation on the jar and box. There is a cream within 800-900 rubles for a jar of 200 ml.
I opened the jar and was very pleasantly surprised by the rich, vibrant aroma of real cocoa nuts. This is not some kind of chemical smell, but so natural and strong that I fell in love with this cream just because of it.
But I was unpleasantly surprised by the reaction of the skin of the face to the cream – the skin went red spots! I was frightened and all washed off the skin, deciding to leave on after childbirth, and try again. After all, as you know, during pregnancy, there are often reactions even to the usual means.
And now, half a year has passed since the birth of the baby, and I remembered this cream. It is stored in my refrigerator. Once, after reading some article in a magazine, I was inspired and now I only keep face creams there, so as not to smear my face with oxidized filth, which is rotten in the closet.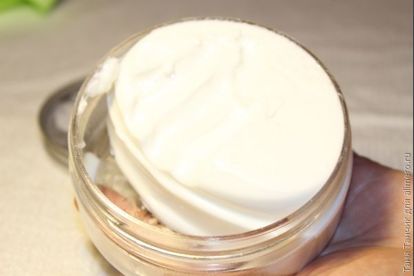 In the fridge, the cream hardens like butter, and it is pleasant for me to pick it with my nails in order to put it on the skin. And so, I tried to put the cream on my face again. A minute after application, the skin sharply tingled, and red spots appeared again!
Everything, I decided not to use the cream anymore, but I smeared my hands for nothing to do. And then I saw a completely different reaction – no tweaking, no redness, and besides, the cream did not leave a greasy shine after it was absorbed, although it felt very oily to the touch, like butter. I was very surprised and conquered. I began to use this hand cream.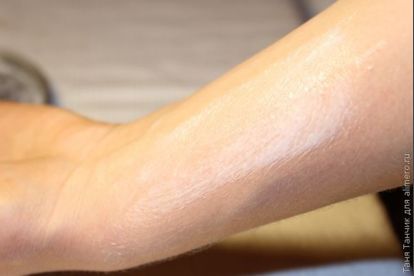 But since the instruction was not in Russian, I was still wondering what kind of cocoa butter it is, for which parts of the body and what the effect should be. I found the same box on the Internet and found out that the cream is intended for the body (and not for the face on which I persistently applied it at first).
In addition, he, it turns out, has a lot of positive effects; it's not for nothing that my sister presented me this cream when I was in position. But since I did not ask her anything, she didn't tell me anything about him.
Useful properties of the cream:
– the composition of the cream is entirely made from natural ingredients (natural cocoa butter, extract of St. John's wort, green tea, currants, raw jojoba oil, macadamia, olives and grape seed; from harmful only soda benzoate and glycerides, alcohol (if you can consider it harmful, it is unlikely ), perfume).
– well nourishes the skin
– eliminates dehydration of the skin and enhances the protective functions of epidermal cells
– able to penetrate into the deeper layers of the skin (which many creams rarely can)
– eliminates vascular pattern and smoothes skin pigmentation
– eliminates the reduction of skin turgor, lethargy, skin depression
What can I say? This cream is ideal for pregnant women, because they have a constant dehydration of the skin, flaccidity of the skin, as well as problems with burst capillaries. Only apply the cream on the body, especially on the legs, because they often appear during pregnancy capillary mesh. I unfortunately, in several places she appeared.
Having received this experience, I decided to continue to immediately look on the Internet for any reviews of cosmetics that I buy or give me, which has no instructions in Russian or English. Or at least use an online translator if I don't find a single review or description.