What is cellulite? This is a terrible truth about women's hips, which forces us to spend hours looking at our legs in the mirror and refusing short skirts. We believe that cellulite arises from completeness, but it is not. Doctors say, and the observations prove that cellulite is just a feature of the female figure. Completeness can simply aggravate it.
Why do women have cellulite?
In fact, cellulite is one of the signs of a woman. Women naturally have twice as many fat cells as men. In addition, the distribution of subcutaneous fat occurs vertically. Even when you lose weight, the last excess fatty tissue will be located on the thighs and buttocks, to expel them from there is quite difficult.
Therefore, when we lose weight, first of all, unfortunately, losing weight chest, and then the buttocks. Cellulite also occurs by displacing fat cells closer to the surface of the skin. The crowding out is due to malnutrition. Therefore, everything depends not on how much we eat, but on what it is. No wonder that Americans are recognized as the nation in which women are prone to cellulite the most.
In our time, cellulite is considered the norm, but it is not quite so. Yes, its existence is due to the special structure of the female body. But its existence is not a regularity and it is impossible to use its female features as an argument in favor of inaction.
Blue clay in the fight against cellulite
As it turned out, clay is used not only for the purpose of cleansing the face from black spots, but also in the fight against cellulite. Just clay is different, and each species differs not only in color, but also in properties. Imagine, in nature, there are already 40 types of clay and each found application!
We are not going to describe everything now, because at the moment we are only interested in those who are able to help against cellulite, and this is blue, green, black and white. But the most effective is considered to be blue clay. Surprisingly, blue clay has no contraindications at all. Nowadays, in many SPA salons, blue clay is used in body treatments.
But, if you just as I do not like to overpay for the work of cosmetologists where you can do it yourself, go straight to the pharmacy. It is in the pharmacy, according to the assurances of the forums, that the cherished bag of blue clay should be sold. Also, the procedure will require water, ordinary tap.
In addition, we will need food film, which we usually cover the dough, or baking sheet. Pour the clay in a ceramic dish, you can in a bowl, then pouring warm water into it, bring it to a state of liquid sour cream. You can apply the clay on the skin with a brush, or just with hands moistened with water.
The color of the blue clay becomes not blue at all, but gray. When the problem areas are carefully smeared, we cover them with a film and under the blanket. We lay under the blanket for about an hour, but not less than 30 minutes. Under the influence of heat, the nutrients come out of the clay, and thanks to the film, they enter the skin, and do not evaporate.
Such a home wrap should be done for the best effect a couple of times a week, and in general at least two months. Honestly, I haven't tried it yet. But, according to a friend, I know that the procedure is taking place. Clay was not so easy to find, at least in my city. Therefore, I am waiting for it to be brought. Maybe for the sake of such a thing, I will even order it via the Internet. After all, such a natural drug can be used both for the face and for the figure.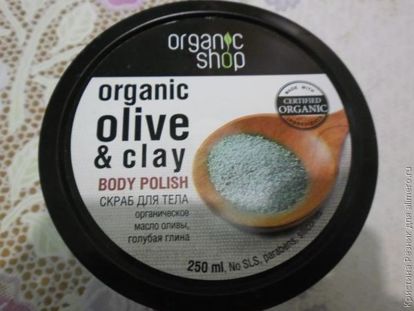 Organic Shop Olive Clay
In the meantime, I can tell you about one tool for the body, which also has blue clay already known to us. Gave me this wonderful jar of a friend. This tool, she said, was from the SPA series. In addition to clay, the scrub also contains olive oil. Apply after a shower.
In general, all procedures from cellulite are best done after a shower, when the body is steamed out, and the skin is better able to absorb nutrients. Scrub pretty soft, even too much. The color is bluish, the consistency is slightly grainy. The composition of the scrub is credible: glycerin, water, clay, olive oil.
Such a substance can be applied to the body and leave for 3-5 minutes. He will not cause allergies, only pleasant warmth, and the clay will have time to act as a mask. The smell is a bit floral, apparently fragrances are still present in the composition.
Pros:
– soft texture and hydration due to the presence of olive oil;
– well applied to wet skin, consumption is not large;
– After scrub, the skin is smoother and there are no discomfort.
Minuses:
– not enough peeling particles, though, the scrub can be used as a mask. It performs its purpose, and with long-term use, it may help with cellulite. Although it is designed for the whole body.
I find out from a friend where she bought it, because for a full effect, I think you need a couple more jars.
Did you use the cosmetics of this series?
Reznik Kristina for the site alimero.ru