I don't know about you girls, but until recently, I had castor oil associated exclusively with a laxative 🙂 Once upon a friend's good advice, I even tried to lose weight with it. But a couple of days of experiments repulsed me forever with such a desire – I had to drink it in the morning. Well, and then, as you understand, from the house or foot;)
Since then, I abandoned a similar idea. But she did not refuse the use of castor oil; on the contrary, she found use for it. Only now only external 🙂
A few words about the oil itself

Castor oil belongs to vegetable oils and contains vitamins A and E, bioflavonoids and essential oils. And these substances are known for their bactericidal, nourishing and moisturizing properties.
It is considered the best oil obtained by cold pressing. This method allows you to clear it of poisonous alkaloids that remain in the cake. This oil becomes useful, and most importantly, safe. Just it is used in cosmetology and medicine.
For eyelashes

Oil strengthens cilia well and promotes their growth. And it is very simple to apply it – apply a clean brush from the mascara on the eyelashes. But be careful that the oil does not get into your eyes. And do not leave castor oil on your eyelashes for a long time – this can cause eyelid edema. I usually apply for 30 minutes, then wipe with a dry cotton pad.
For hair

This vegetable oil is also beneficial for the scalp and hair. With its regular use, our hair becomes simply gorgeous – lush and thick, and the hair itself is lively, shiny, without split ends. Also, oil helps to get rid of dandruff and loss.
The application is quite simple: apply oil with light massage movements on the scalp and hair roots. Then spread over the entire length, paying special attention to the tips. Wrap up with a film and a towel and forget 🙂 Yes, yes, the more you hold, the better the effect. I sometimes even leave for the night. But if this is not possible, then at least for 30 minutes.
Sometimes I mix castor oil with wheat germ oil or burdock oil.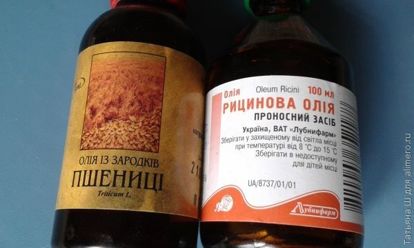 I also like the mask of castor oil and kefir. After her hair becomes soft and shiny. In a half cup of slightly warm kefir (I warm it in the microwave for 30-40 seconds) add 1 teaspoon of oil, stir and rub into the scalp. Again, hold for at least half an hour, then wash off with regular shampoo.
For the area around the eyes

Oil literally works wonders in this regard – it helps to get rid of mimic wrinkles and reduces bruises under the eyes better than any cream. And the skin itself looks healthy and well-groomed.
And I use it this way: for the night I apply a drop of castorca neatly on the skin around my eyes. In the morning I wash my face with cool water. If you do this every day for a month, then the effect will be very noticeable.
For nails

Oil will help to cope with exfoliated nails. To do this, you need to rub it every day in the nails, and they will become healthy and strong.
Castor oil is a useful and universal remedy that is always in my arsenal.
How do you use castor oil?