This cream came to me in a rather interesting way. Everyone probably heard about the phenomenon of postcrossing. This is when people from different cities, and even countries, exchange postcards. And the recipient of your postcard is determined randomly.
There are such services not only for sending postcards, but also for exchanging completely different surprises and souvenirs. Somehow I got to the forum where girls in a similar way sent each other various cosmetics. A sort of cosmetic postcrossing.
When registering on the forum, each participant fills out a questionnaire, where she specifies her skin type, her cosmetic preferences and a sample list of what she would like to receive.
After that, the sender / receiver pairs are formed. And within a month, cosmetic surprises are sent by mail or via courier.
And the cherished parcel came to me. There were several products in the box that I indicated in the questionnaire and one interesting body cream from Avon of the Planet Spa series. About him, I want to tell you today.
Appearance and composition
The cream itself is packed in a small tube of 50 ml. The lid folds open very easily.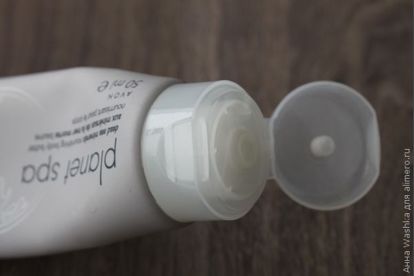 The smell of the cream is very pleasant – it smells like something sea. But this flavor is quite strong. Not everyone may like it. On the skin, this smell is also felt for quite a long time.
The structure of the cream is quite dense, from a rather small hole comes out with difficulty. We have to make significant efforts to squeeze it out of the tube.
The composition is quite chemical. Of the plant components, I would select only rapeseed oil and shea butter. They are on one of the first places in the composition, which means they are not present in meager amounts, which is good news.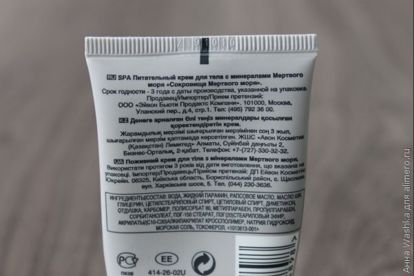 Of course, the name of the treasure of the Dead Sea, the cream does not justify. After all, from the minerals in its composition only sea salt, and then in the penultimate place. So, in a tube it has two grains.
My impressions of the cream
The cream fits very well on the skin. Does not roll, does not spread. Absorbs quickly and remains a pleasant velvety feeling after that.
I apply cream after scrub. My skin does not say that it is dry. But some rough places are still there. And the cream moisturizes and nourishes them just fine!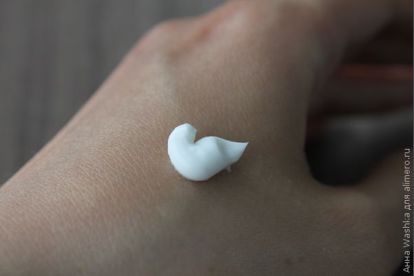 Compared to other body creams, this one clearly benefits in terms of skin nourishment. After application, usually the effect of velvety skin goes away after a couple of hours. And with this cream, the skin retains its softness for 8-10 hours for sure.
To be honest with you, I am skeptical about Avon products. But this body cream pleasantly surprised me. It really nourishes the skin and makes it soft for a long time.


Of the minuses – a tiny package. But, as I understood, it looks more like a sampler – it is not even in the catalog in that volume. A full-fledged can of 200 ml costs only 250 rubles.
So the cream is really good, and even not expensive. Perhaps I'll buy myself a big package.