Are you satisfied with the condition of the skin on your heels? Want to make her even more tender? For a long time I selected suitable masks and scrubs, tried a dozen of two popular recipes and several cosmetics. Today I want to share with you those tricks that I liked more than others.
1. For heavily hardened heels.
When my heels looked like sandpaper, I decided to use an onion compress. First, I made soap and soda baths for the feet, and then applied to the steamed skin the halves of bulb onions, scalded with boiling water.
It is better to leave such compresses overnight, so I covered the bow with pieces of polyethylene and wrapped my feet (not very tight). In the morning, she threw out the onions, carefully washed the skin and smeared it with a fat vitamin cream. After 3 days, the result was obvious (or rather, on the heels :)).
Another option – a mask of onions, potatoes and cabbage. For its preparation I needed:
– potatoes boiled in peel (1 tuber is enough)
– Half bulb bulb (medium size)
– 2 leaves of white cabbage
I ground all the ingredients in a blender, divided them in half and placed them in plastic bags. I loaded my legs in bags with a mixture and went to write another topic on our website. So to say, combined business with pleasure. I spent a couple of hours behind the monitor, and then everything went as usual – I cleaned the remnants of the mixture, washed the legs, smeared the skin with cream.
2. For quick effect
There are times when you need to put your heels in order as quickly as possible, for example, a spontaneous date … In just 2 days, even the roughest skin will become much softer if you use the lemon-tea mask recipe.
Making it very simple. I brewed a cup of green tea, the drink was poured into another container, and in the steamed leaves I added crushed zest of 1 lemon. I applied a warm mixture on the skin of my heels, and put on my coats and socks. While I was enjoying the fragrant drink, my legs got their portion of vitamins. After 30 minutes, this mask can be washed off.
The mask of fresh zucchini is no less effective. I chose a small young vegetable and, together with the skin, chopped grated. I put the resulting gruel on cheesecloth pieces, put it on my heels and put on my socks. After 30 minutes, the gruel was removed, the feet of soap and lubricated with your favorite nourishing cream.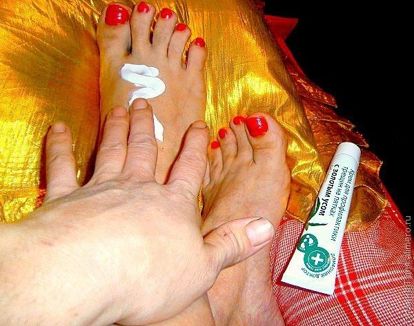 These are my main procedures. Thanks to them, my heels are now just like a child, so tender.
By the way, instead of cosmetic scrubs, I have been using a mixture of olive oil with sea salt for months.
Do you have the right foot care product?