As I already wrote, my body skin is very dry, so every day I moisturize it with special means. It would seem that a miracle remedy was found by me (I wrote about him in one of the reviews), but a pharmacy friend recommended trying AQUAporin from Eucerin.
The tool is available in two forms – Light (lotion-emulsion with 5% urea content), and Rich (10% in the form of milk-cream). The second option is for serious cases – when the skin is damaged due to dermatitis, pressure sores, eczema, etc.
The manufacturer is a German concern well known to everyone. Beiersdorf, which we know from the well-known brand Nivea. However, unlike Nivea products, the Eucerin series belongs to professional pharmacy cosmetics, and is sold only in pharmacies. Most products are designed for very dry, dry and sensitive skin, and there are a lot of them – shower gels, deodorants, face, body and hand cream, etc.
There are also lines for problem skin, sun protection, elimination of stretch marks and anti-aging care.
Aquaporin Body Lotion provides long-lasting skin hydration even in the deep layers of the epidermis. Thanks to Glyco-Glycerol, aquaporins are activated — natural water channels in the membranes of skin cells, whose function is to transport moisture from cell to cell. The more aquaporins in the skin, the better it retains moisture.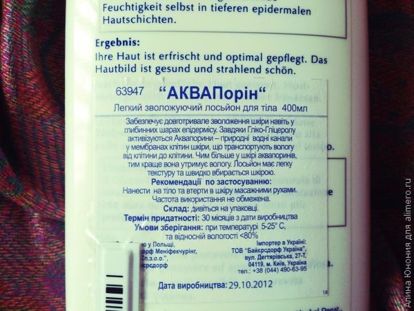 This lotion has an unusually delicate texture, more liquid than thick (approximately like liquid soap), so applying it to the skin is a pleasure. The smell is the freshest, slightly reminiscent of the fragrance of the famous Nivea cream in a blue jar, but unlike it is completely unobtrusive.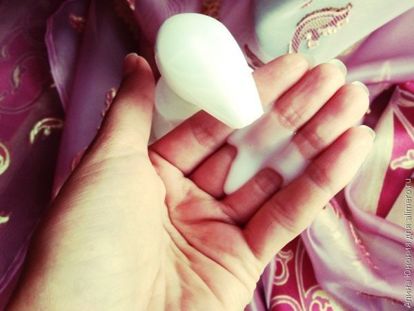 Aquaporin is absorbed almost instantly, it seems that dry skin absorbs it at a crazy speed. The vial indicates that the frequency of use is not limited, but even for my dehydrated skin, two, a maximum of three applications per day are enough. After several days of use, dryness and feeling of tightness of the skin completely disappears.
The bottle is equipped with a convenient dispenser, capacity 400 ml. The cost of about 570r. (143 UAH).
Honestly, if you compare my favorite Topicrem and AQUAporin, it is very difficult to make a choice in the direction of a better tool. Both lotions perfectly moisturize the skin, have a light texture, a pleasant smell and are quickly absorbed. And if you make simple calculations, it becomes clear that AQUAporin is even slightly cheaper than its competitor.
But, unlike Topicrem, AQUAporin is not claimed as a remedy for babies, which may mean fewer different tests for allergic reactions and component checks. However, I personally have no doubts about the reputation of the manufacturer, so, occasionally, I smear the skin of a four-year-old daughter with this lotion.
I am pleased to recommend AQUAporin moisturizing lotion. Personally, I did not find flaws in it. In anticipation of the heating season and dry indoor air, this tool is exactly what the skin needs.
Did you use Eucerin cosmetics?