I already wrote about Eucerin moisturizing emulsion. I was very pleased with its quality and effect. Recently, a friend gave me a cream that restores the integrity of the skin of the same company, which I would like to tell you today.
Cosmetics of this series are sold only in pharmacies, are hypoallergenic, many products are suitable for children from 3 years. Concern Beiersdorf (Germany) also produces a series of products for the mass market, the most famous of which is Nivea.
In the Eucerin series there are a lot of face, body, hand and hair care products. Some products belong to the category of medical cosmetics.
The product is not intended for regular daily use, and should be applied to the affected skin. Aquaphor speeds up wound healing and creates a film on the skin surface that protects against infection.
Due to the presence in the composition of Bisabolol cream has an antiseptic effect, but, nevertheless, before applying it should wash the skin with water. It is desirable that the skin was dry. It is not recommended to apply the tool to open bleeding wounds.
The cream also contains Panthenol, which softens and heals the skin, which is especially important after sun and other burns.
Aquaphor has a pronounced softening and nourishing effect, which makes it indispensable in the fight against very dry skin.
What I really liked about him was the complete lack of smell. From the side it may seem that the cream is very oily and sticky, but this is not at all the case. In appearance, this is a transparent gel-like mass (due to the content of glycerin in it), which is completely absorbed.
However, after a few minutes after application, the fat content almost disappears and, as the manufacturer says, the tool continues to act on the deeper layers of the skin.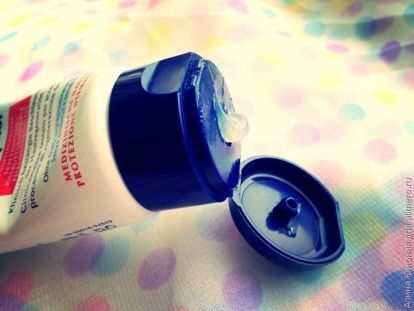 I really enjoyed using Aquaphor to eliminate dryness on the elbows and the skin of the feet. In winter, I plan to periodically use it as a hand cream. I also liked the effect after applying to the cuticle (the skin around the nails), which I often overdried due to contact with water while washing dishes.
Healing properties of the tool are also very good – minor scratches heal much faster, and the skin is restored perfectly. Of course, for serious damage, this cream should not be used, for these purposes there are drugs.
Aquaphor is not a must-have, but if you are given it (like me) or have extra money and very dry skin, you will not regret it. I think it can also be used as protection against wind and frost (including children), because there is no water in the composition.