Summer, sun, heat, light clothes, wet armpits … You do not know this problem? How glad I am for you! And I, having spoiled the spots of several favorite dresses and T-shirts, decided to buy Dry Dry – a long-lasting anti-perspiration remedy.
From alum to botox
I do not suffer from elevated hyperhidrosis. But in extreme heat or in exciting situations I sweat. Normal body reaction.
But wet armpits for me – it's embarrassing and ugly. Therefore, in the summer I wore T-shirts or tight-fitting clothes of dark colors. At the same time she experienced stiffness of movements: she did not want to shine a problem.
Three years ago, I began to search the Internet for an answer to the question of how to solve it. The options were from the simplest to the operation: they offered to treat the skin with alum, glue the armpits with special hygiene pads, and in the most difficult cases, prick the armpit Botox, which blocks the sweat glands.
The first options seemed ineffective to me, the last one was too tough. Then I found Dry Dry.
How does he work
This is a world-famous sweat drug. It has been produced in Sweden for 25 years. You can apply it in the armpits, on the feet and palms. The composition is quite aggressive: denatured alcohol and aluminum chloride hydrate 30.5%.
Aluminum chloride temporarily blocks sweat glands. Sweat from treated areas is excreted by other areas of the body or by the kidneys. The manufacturer claims that aluminum from the block does not enter the body, but after a while it leaves through the pores. Therefore, deodorant is safe.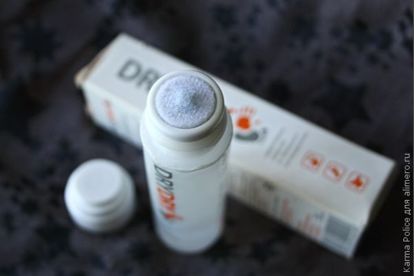 Only according to the instructions!
Dry Dry is not an ordinary deodorant. He has his own rules of application, which must be observed strictly. In principle, everything is more than described in detail in the instructions.
The conditions of use are as follows: apply in the evening, one hour before bedtime, on clean and dry skin. Although dry armpit hair dryer. There should not be a drop of moisture, otherwise there will be itching and burning. After shaving the armpits, 48 ​​hours should pass, if you are doing epilation, the skin should completely calm down.
Subject to the rules at the initial stage of using antiperspirant, the armpits will be dry for 5 days. No sweat, no smell.
I have been using Dry Dry for more than 3 years now. At first, she applied it once every 5 days in the summer, then once a week, when it was cool, once a month. Now in the summer I use it once a month. And between applications I spray with a usual deodorant.
If an important event is planned, Dry Dry is my confidence and guarantee that the clothes will look decent.
A bottle of 35 ml costs 600-900 rubles. But it lasts from six months to three years.