Recently, I really loved serums for the face. I believe that the serum is saturated with beneficial ingredients, nourish the skin of the face and contribute to a deeper penetration of the cream into the skin. Today I will talk about the serum sample, which I have been actively using for about a month from the French brand Caudalie – Polyphenol serum.
The manufacturer (France) promises a unique formula that does not allow free radicals to develop. Visibly smoothes the skin, deeply moisturizes. Enriched with hyaluronic acid and squalone olive. Not comedogenna.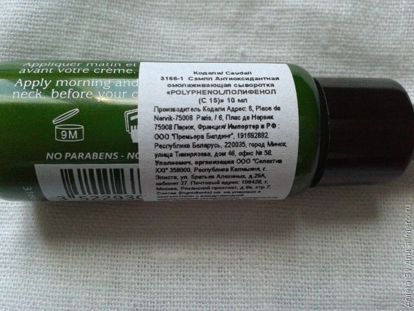 I received this miniature of serum (10 ml) in one of the box services. Full version contains 30 ml.
The miniature package repeats the full version – a bottle of dark green glass with a screw cap with a pipette embedded in it for easier dosing of the product.
The bottle is not smooth, so you can not be afraid that it will slip out of hand. The pipette is made with high quality, reaches to the bottom of the bottle, so you can use the serum to the last drop.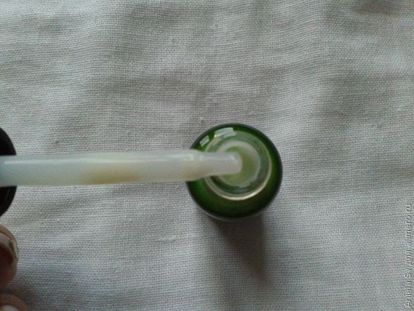 The serum itself is white, turbid, light water with a cream-gel texture. The serum is non-sticky, it smells pleasantly fresh.
The manufacturer advises to use the serum in the morning and evening before applying the cream. I use it only in the evening, because I believe that if it is applied in the morning, the makeup applied to the serum will roll.
So, after evening washing, I put a few drops of serum on my face. Serum is easily applied and absorbed, does not stick, does not roll down after application.
I have been using serum for a month now and I can say that it does not clog pores, it perfectly moisturizes the skin. I really like the serum and I plan to purchase the full version. Although you must first finish this sample, which is enough for a very long time)
There is no composition on the bottle, so I will insert the active ingredients: water, glycerin, squalane, vitamin E, grape extract, hyaluronic acid.
There is a full version (30 ml) – 2790 rubles without discounts.
I really liked the serum, and I can safely recommend it to everyone. It seems to me that it is suitable for any skin type, as it is light and does not cause excessive separation of skin secretions.
Do you use serums for face skin?