My cellulite worsened in the last stages of pregnancy and stayed after giving birth. Before, I had never encountered this problem, so at first I was a little scared. I did not know what to do to solve it. My friend advised a good way to help her is to use a massage brush.
Operating principle

The action of the massage brush is based on improving blood circulation in problem areas, which activates metabolic processes in the fat layer and other subcutaneous layers, which in turn leads to a decrease in the volume and disappearance of cellulite. The skin becomes smooth, taut, smooth.
How to choose a brush?

Since the tactile perception of each person is different, then the brush must be selected individually. They are of different types, I personally liked two:
1) Round brush with massage fingers. She needs to do a dry massage. They say that dry massage is the most effective against cellulite, besides, it improves skin tone.
2) Bast mitten. To her, I rub the skin of problem areas in the shower.
The main thing is to do the rubbing

The first rule to remember is that the massage should be dry. Both brush and skin should be dry. It is advisable to do a massage before taking a shower or bath. The procedure must be given at least 20 minutes, carefully massaging the problem area.
I did this rubbing almost daily for four months while I was shaping myself. Now I do it for prophylaxis two or three times a week.
Rubbing should be done from top to bottom, starting from the area above the patella and ending with the abdominal area. The movements should be circular, with pressure, sensitive areas should be massaged more easily.
I usually started to grind from the back of my thighs. During the massage, I made maximum efforts in order to quickly achieve the desired effect. I also rubbed the sides and buttocks, abdomen area. After the procedure, took a shower, rubbed the problem areas with a towel.
It will be more correct to perform the procedure in the morning, as it increases the overall tone of the body.
Contraindications

If you suffer from varicose veins, then this procedure is not for you, or you need to do it very carefully, bypassing problem areas. Owners of sensitive skin also need to act very carefully.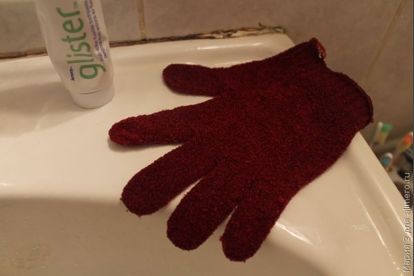 Using a similar massage in combination with body wrapping and exercises from the Bodyflex course, I was able to bring myself into great shape in just four months.