As I already wrote, I accidentally stumbled upon a stand in a store, strewn with cheap bags of Grandfather Agafya's brand. Naturally, I could not pass by and bought myself a package of anti-cellulite body mask with a significant inscription Hot!
I can't wait to tell you how the product was used, so I'll tell you about the rest below. I have never used such tools before. Of course, I had body masks. But never hot. I thought that this product was probably very effective, because it warms, opens the pores, deeply cleanses and detoxifies, and returns the skin's softness and elasticity!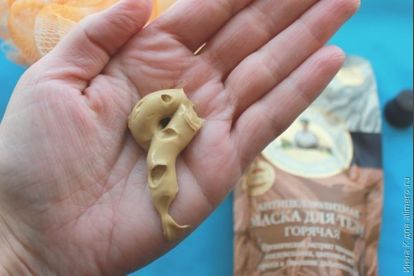 I am always cautious with new products, so this time I decided that I would put a mask on my skin right in the shower. While I will be engaged in other affairs, she will act and if anything, I will quickly wash it away. How right I was! I put on, waiting. A minute later began to warm up. Well, I think it worked! A few minutes later it became even warmer and began to tingle.
Gradually, the sensations grew, and I thought that for the first time was enough. And then the most interesting and unforgettable began. I began to wash off the mask, but its action is only beginning to intensify! Ass I started to burn is not a child. The more I tried to wash the composition off the skin, the more it burned. I tried and gel and soap, nothing helped!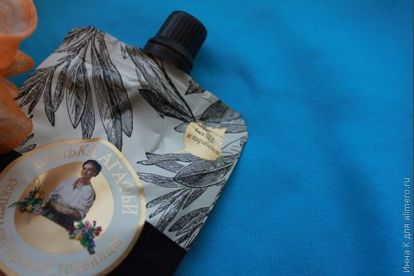 Recalling the Siberian travnitsa with all the abusive words I know, I began to gently wipe myself with a towel, but the pain was so strong that I wanted to run after D-panthenol from burns. But I did not have it, and I smeared it with a simple softening cream. After examining my fifth point in the mirror, I honestly was horrified, it seemed that I had a strap.
At that time, the daughter laughed loudly and mockingly read the inscriptions on the packaging: A good remedy will save your body from excess. Scatter the berries, add mustard, pour some water over the glass…. I, unfortunately, could not join her, because thought about the question of how I sleep on my stomach. But this did not have to do, because pain after 15 minutes passed.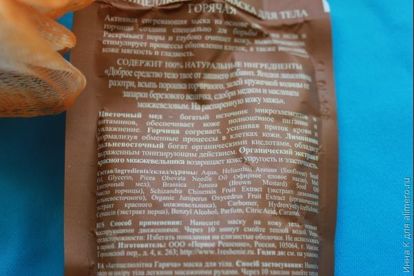 Well, now you can tell about the tool itself. In the composition, as usual with Grandma, 100% natural ingredients, without parabens and other bad chemicals. Damn, what is so burning? I had the feeling that they burned me with some kind of cayenne pepper. But no, this is just our Russian mustard, lemongrass, juniper and medok.
The color of the product is closer to the mustard seed, but the flavor still stubbornly reminds me of some kind of hot pepper and something floral. The consistency of the mask is quite thick and it spreads easily and pleasantly (for the time being).
I bought a mask in just 22 p., And its volume is 100 ml.
At first, I swore to myself that I wouldn't look even more in the direction of this mask. But then I thought that maybe its effectiveness is directly proportional to pain? But once it is difficult to judge. Therefore, while I am thinking, throw it out or continue execution with a soft spot.
Do you think all hot masks are painful?