Russian manufacturer, excellent composition, normal, as for organic, price. But it turned out that it was too early for me to use them at the age of 30: I don't need lifting yet, and the nutrition for the combination skin from these creams turned out to be too much.
The universal passion for organic cosmetics did not pass by me. I tried quite a lot of cosmetics from Natura Siberica, which positions itself as a manufacturer of organic cosmetics.
The whole series of Anti-age cosmetics was developed on the basis of a unique plant from Siberia – snowy cladonia. The unusualness of the plant is that it is very frost-resistant – it survives at 50 degrees of frost. And not only survives, but also green!
The secret of the plant is that it contains usnic acid. Through the efforts of biologists it became known that this acid resists aging and provokes cell regeneration.
As with all brand products, these creams do not have artificial colors or paraben preservatives. All extracts and components of cosmetics have a certificate of organic origin.
A consultant at the store told me that at the age of 30 you can use anti-aging cosmetics. To walk, so to walk: I took both day and night cream.
I really liked their packaging with convenient dispensers. And the consultant said that the pump captures the cream not through a tube, but raises the bottom. Thus, the cream is not in contact with oxygen and does not oxidize. And it is used almost to the last drop.
The volume of the tube in creams 50 ml, they cost about 300 rubles each.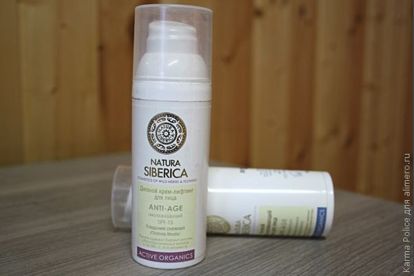 Day face lifting cream
rejuvenating
First of all, I liked the fact that the cream has SPF, even though I bought it in the winter, UV protection is always useful. Of the herbs in the cream, except for cladonia, a few more with completely unfamiliar to me names and calendula.
For moisturizing and restoring skin, youth vitamin – vitamin E was added to the cream, and plant collagen for elasticity.
Cream thick and oily, herbal smell. In the cold, maybe it was not bad. And as it got warmer, nepivatsya cream had to wipe with a napkin. Now sometimes I use it as a basis for masks.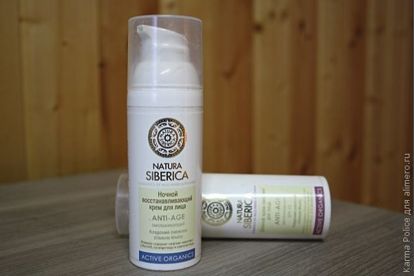 Night Repairing Face Cream
rejuvenating
Not at the store, but at home I looked at the boxes, read the composition. And he is identical in both creams! Is that night without SPF.
But this cream is even more fat and with a very pungent odor. It seems too herbal, like that of the day. But the smell is strong, like a perfume for men's cosmetics. Overfed their skin and clogged pores. Now I smear his feet under the socks.
After this not entirely successful purchase, I unconditionally trust the consultants. Carefully read the composition of cosmetics and recommendations for use.