I love body scrubs, especially sugar. They, unlike saline ones, do not pinch the skin if it is damaged. Today I'll talk about one of my representatives – Alvin D`or sugar scrub with extract of Amsonia flowers.
The manufacturer (Russia) promises effective cleansing of the skin from horny cells, toning, stimulation of metabolic processes. The skin becomes smooth and velvety. Scrub has a massage effect, smoothes the skin, gives it comfort and nourishes with vitamins.
Packaging and appearance
The scrub is enclosed in a large round plastic jar with a screwed black lid. There is a protective film between the scrub and the lid, which prevents unscrupulous buyers or sellers from getting into the product.
The mass of the scrub is 200 g. A transparent can allows you to adjust the quantity of the product.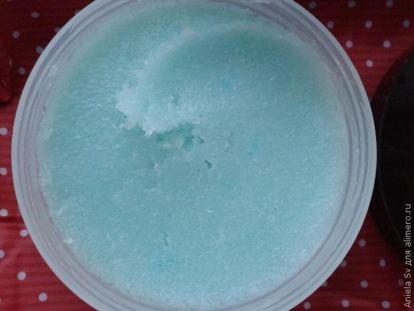 Light blue scrub, visible sugar granules, enclosed in an oily liquid. Scrub is quite thick, scooped up with difficulty. The aroma is bright, but intrusive, chemical, floral aroma. I don't really like it, it's good that it's not preserved on the body.
The scrub is quite hard, peels off in full, for sensitive skin will not work. Applied and distributed with difficulty. First you need to rub it a little in your palms. Due to its rigidity, I believe, is ideal for the fight against cellulite. On the skin, the scrub is thawed and already well distributed.
It is washed off easily, after itself leaves a small film that is absorbed and does not deliver discomfort.
The composition is short and clear: mineral oil, sugar, squalane, birch extract, hazel extract, vitamin A, clay, Amsonia extract. There are parabens and dyes. Not the best composition, but not the worst.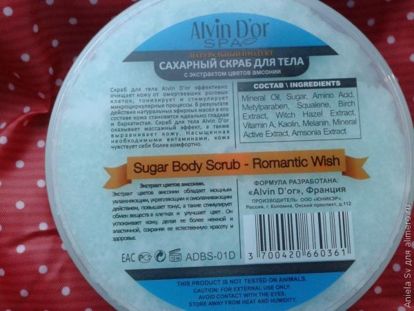 Summary
If you like hard scrubs – then you will like it. I still love more peeling more. I'm unlikely to repeat, and besides, I don't like chemical fragrance. Cost – 129 rubles.